Cox backs Nigel Pearson to succeed at Leicester City
Last updated on .From the section Football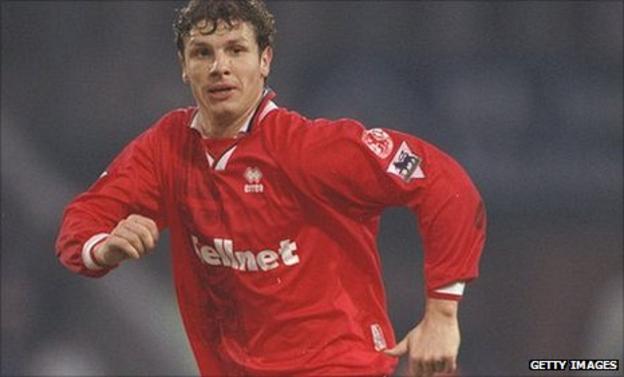 Neil Cox is convinced his former Middlesbrough team-mate Nigel Pearson will command respect as Leicester City manager but says there is far more to the dour persona he is often accused of portraying in public.
Cox, who retired in 2008, played alongside Pearson for three years at the Riverside in the mid-1990s and insists his one-time defensive partner knows how to strike the right balance to bring success.
"Nigel's a character off the pitch," Cox told BBC Radio Leicester. "He was funny, he made jokes, he was the man who made everyone laugh and pulled all the party tricks.
"But as soon as training came, and he'd done all his pranks, he was at the front working hard and he trained like it was a game. He was ultra professional. That was what you got from Nigel.
"He expected to win in training, at five-a-side or anything else - whether it was golf or tennis or anything."
Pearson's second stint at the club he left in 2010 certainly got off to a bright start with a resounding 3-0 win over high-flying Crystal Palace on Sunday.
Foxes striker Paul Gallagher has said Pearson's return has lifted the club and believes that victory could kickstart their season.
But Cox said if instilling the fear factor in the Foxes squad was needed, it would come quite naturally to 48-year-old Pearson, who built a reputation as a no-nonsense centre-half during a 18-year playing career.
"Playing alongside him he used to frighten me and I was on his side. But that's the way Nige was," said Cox, who resigned as manager of non-league Leek Town in April following a six-month spell in charge.
"He would not bully centre-forwards but he would not get bullied by any centre-forward and he would have a battle with anybody. I think he has taken that into management.
"I have spoken to one or two other players who know him and he did put the frighteners up one or two of them.
"If they performed for him he would put his arm around them but if they don't he will be on their backs, and I think even more now going back to Leicester they are under a little bit of pressure and they need to perform and get promoted."
Former England Under-21 international Cox, who enjoyed a distinguished playing career which included 248 appearances for Watford and was mainly spent in England's top flight, is eager to get back into the game following his stint in non-league football last season.
He is currently spending his time working in the media and getting further coaching qualifications but hopes to be back in the dugout soon.
"I want to get back into it and am looking around," he said. "I have applied for one or two things and am waiting to hear back on a couple of things.
"It is not an easy time at the moment but I want to get back involved soon."
Cox believes Pearson's equally impressive playing career will have helped him a great deal in his management career.
"He got on with everybody and he probably learned that with the managers he worked with like Ron Atkinson and Bryan Robson," Cox added. "They got on with everybody in the dressing room.
"But if somebody wasn't pulling their weight then he used to sort them out as the captain of the football club. That's what needed. There's no getting away with it with Nigel Pearson."