Dexter Blackstock's Nottingham Forest return 'not far away'
By Colin Fray
BBC Radio Nottingham
Last updated on .From the section Football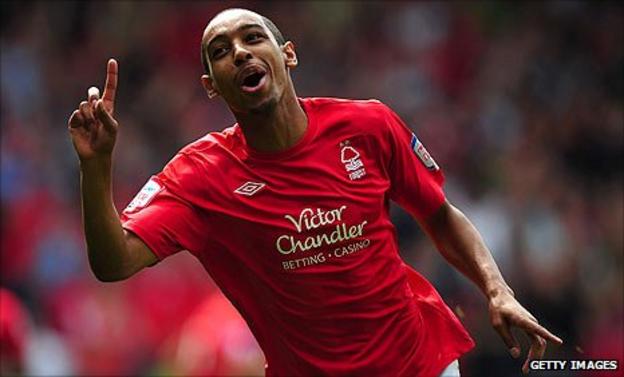 Nottingham Forest striker Dexter Blackstock says he has fully recovered from a career-threatening knee injury after a year on the sidelines.
He told BBC Radio Nottingham: "I'm confident in the knee. I said I'd be back, and I'd probably be stronger.
"I'm fit. It's just a case of being match fit now. But it's not far away."
Blackstock was injured in the game at Cardiff City in November 2010, and his appearance in the reserve-team game followed a 45-minute showing in a behind-closed-doors friendly.
But after so long out the striker says he had no concerns about making his comeback.
"I've always trusted the knee and I know how hard I've worked to build the strength back in the knee," he said.
"I'm confident in it, and I'm confident going into tackles, whether it be a training match, or for the reserves or the first team. That's not a problem. The only problem I have now is getting the minutes under my belt before I can go into first-team action."
Blackstock knows he will have to be patient as he waits for that recall, but he has faith that his new manager, Steve Cotterill, will get the timing right: "The manager's very experienced, and he'll know when the time is right to bring me back into the fold."
When the extent of the injury was first discovered, some expressed concern as to whether he would be able to perform at the highest level again, but not from the man himself.
"At times it's been tough," Blackstock said. "But I never doubted whether I'd come back or not."
Blackstock says he most regrets not being around to help Forest take the final step into the Premier League last season. The Reds lost to Swansea City in the play-off semi-final and he found that difficult viewing.
"Obviously, there were some down days. Not being able to help the team when we've been struggling, and especially last year when we could have got promoted. That was the toughest time, really.
"But that's all behind me now, and funnily enough, it's this part now towards the end that seems to be the longest time because you're right there now and it's just a case of going back out there."
And after a recovery which has been on schedule throughout, Blackstock is keen to acknowledge the part played in his rehabilitation by medical staff at the City Ground and beyond.
"The staff have been great and the physios magnificent," he added. "All the people in America that helped me when I went there for a couple of months, they were massive. There were no real setbacks and everything's gone to plan.
"That's why I think everyone's just making sure we don't make any mistakes towards the end, but I think it's safe to say that I'm fit now."