Celtic boss Neil Lennon condemns attacks on Anthony Stokes' home
Last updated on .From the section Football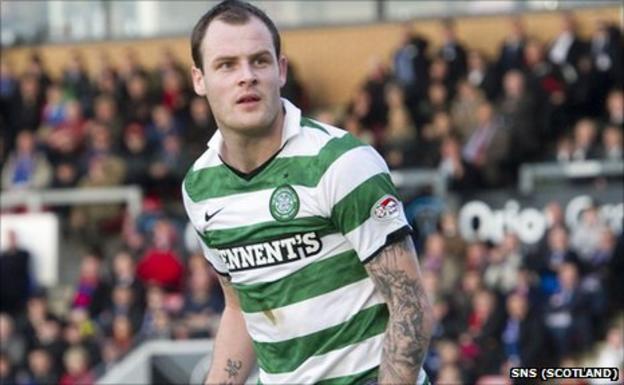 Celtic manager Neil Lennon has empathised with Anthony Stokes after the striker's home was attacked at the weekend for a second time.
It was reported that Stokes' partner was alone in the early hours of Saturday when a window was smashed.
"Obviously it is, again, the downside of the off-field stuff that goes on here," said Lennon. "We had a chat with him and he is okay.
"It should never happen, not just to Anthony but anybody."
Stokes' house was targeted following a match against Rangers last year, with the Republic of Ireland international now considering a move.
Lennon has also been the target of threats and violence during his career as a player and manager at Celtic, most recently when he was sent bullets and parcel bombs in the post last season.
He he was also attacked by a fan on the sidelines during a match against Hearts at Tynecastle.
Lennon said he had spoken to Stokes, whose recent run of good form continued on Saturday with both goals in a 2-0 win at Inverness.
"His young girlfriend is pregnant and I think he is going to move out of the area now and find somewhere else to live because it's not the first time that it has happened," added Lennon.
"However, on the field he has been superb, he has been a huge player for us for in the last couple of months.
"All I want him to do is find that consistency.
"His all-round game is improving, he is an instinctive goalscorer and instinctive player and what he has done this last couple of months is put the ball in the net, and credit to him."