Arsenal's Jack Wilshere makes a bet with Tottenham fans
Last updated on .From the section Football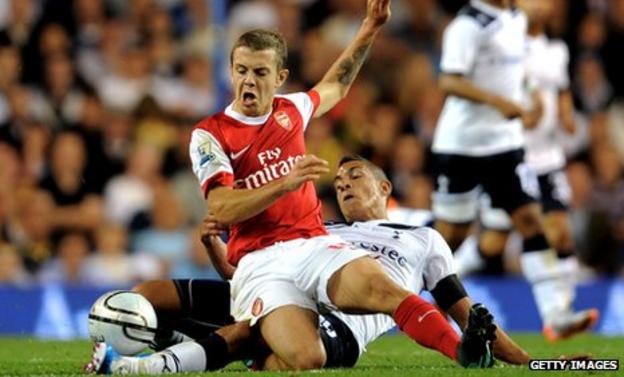 Arsenal midfielder Jack Wilshere has stoked the friendly fires with Tottenham Hotspur supporters - and charity will end up the winner.
The England international has vowed to donate £3,000 to charity if the Gunners finish below Spurs in the Premier League.
The 19-year-old made the pledge via his official Twitter account, and has asked his Tottenham-supporting followers to match the wager by donating £1 each to the Jack Marshall Fund if the Gunners are the top team in north London come the end of the season.
"All Spurs fans are buzzing they are ahead of us in the league," Wilshere wrote. "It's a marathon, not a sprint.
"At the end of the season if Spurs finish above Arsenal I will give 3,000 pounds to charity and if Arsenal finish above Spurs every Spurs fan that follows me must send me a pound which I will send to charity."
History is on Wilshere's side, with Spurs failing to finish above Arsenal since 1993.
But Tottenham appear slight favourites after their 2-0 victory over Aston Villa on Monday evening moved them into third place - three points clear of their local rivals with a game in hand.
Arsenal manager Arsene Wenger is hopeful Wilshere will be making a donation to charity in the summer - courtesy of money sent in by Tottenham supporters.
"He made a contest," Wenger told ESPN. "The good thing is a charity will get some money.
"If we finish above Tottenham he said the Tottenham supporters have to spend £1 each, so because they have many I hope the charity gets a lot of money!
"I hope Wilshere won't pay anything! We are ready for a challenge, and hopefully the charity will get some money - but not from us!"