Hearts owner Vladimir Romanov values club at £50m
By Brian McLauchlin
BBC Scotland
Last updated on .From the section Football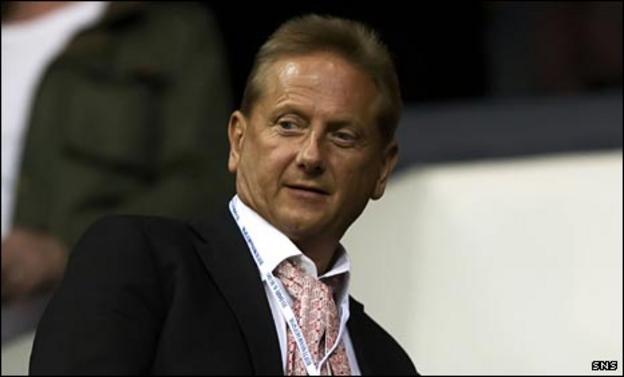 Vladimir Romanov values Hearts at around £50m as the Lithuania-based owner considers selling the Scottish Premier League club.
Romanov this month intimated that he is looking to sell the Edinburgh outfit - or find a business partner.
He is currently in Russia to watch his basketball team, Zalgiris, take on CSKA in Moscow.
But, when asked what value he had on Hearts, he told BBC Scotland: "£50m - that's five zero!"
Romanov has also recently stressed that that club is looking to cut costs.
Nearly half of Hearts playing staff remain to be paid wages due on 16 November, with the club putting the blame on a hefty tax bill.
And director Sergejus Fedotovas at the weekend stressed that, while the owner remained committed to Hearts in the meantime, the board would be looking to sell senior players in the coming months.
BBC Scotland understands that at least two groups are interested in taking over the club but are still to finalise proposals that would then be put to Romanov.
One of the groups is looking at the potential of Romanov retaining ownership of the stadium and leasing it back to new owners until the land value rises and then could be sold to clear the debt that currently stands around £33m.