Euro 2012: Italy team profile
Last updated on .From the section Euro 2012
BBC Sport takes a closer look at the 16 teams who will contest the 2012 European Championship in Poland and Ukraine. Spain are the defending champions. Can Italy take their crown?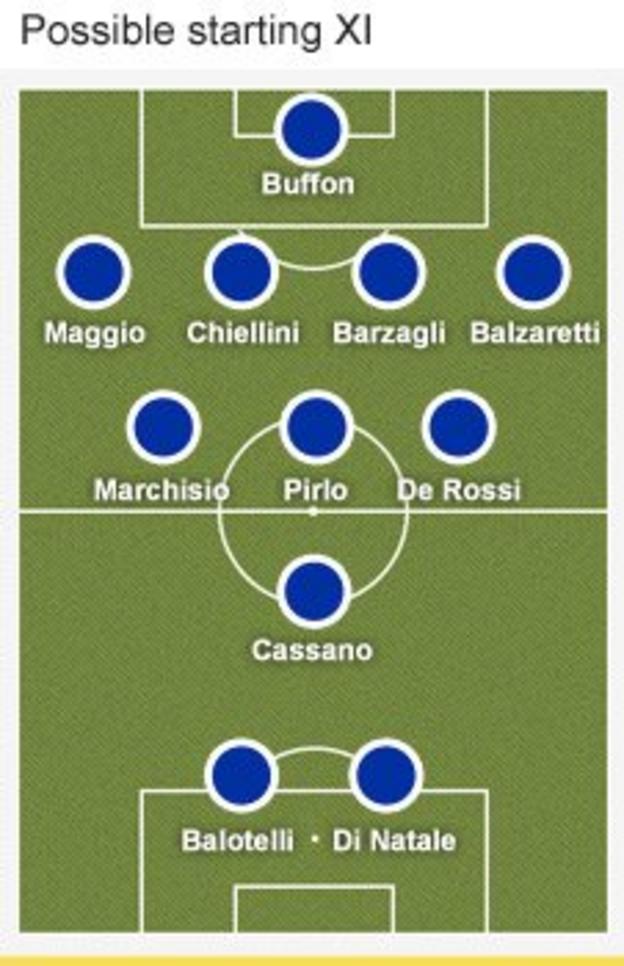 Italy have made a real effort to change style under Cesare Prandelli. Even though they booked their place at the Euros with the best defence in qualifying they're no longer a negative, counter-attacking side honouring the tradition of catenaccio. Instead the four-time World Cup winners look to impose themselves on the opposition with an attractive possession-oriented game based around a midfield of piedi buoni or good feet. Their aim is not just to win, but to convince too.
Likely formation: 4-3-1-2
Possible starting XI: Gigi Buffon; Christian Maggio, Andrea Barzagli, Giorgio Chiellini, Federico Balzaretti; Claudio Marchisio, Andrea Pirlo, Daniele De Rossi; Antonio Cassano; Mario Balotelli, Antonio Di Natale.
STAR MAN
Ignored by Marcello Lippi, temperamental forward Antonio Cassano has flourished under current Azzurri coach Cesare Prandelli.
Since joining AC Milan he has contributed more assists than goals, but he was prolific in qualifying, netting six times.
Cassano's dreams of playing in a third European Championship looked in doubt after he suffered a transient ischaemic attack - something often described as a "mini-stroke" - on the flight back from Milan's game away to Roma in October. He was barely able to speak or move, and admits he feared for his life.
A few days he later he underwent surgery to close a small opening in his heart. He was able return to light training in January, and made his first-team comeback in April.
After starting off with Bari, Cassano's spells with Roma, Real Madrid and Sampdoria all ended in acrimony, but Prandelli insists his enthusiasm is "contagious", adding "I need players like him".
ONE TO WATCH
Mario Balotelli only played 19 minutes during qualifying, but the serious injury suffered by Giuseppe Rossi means the Azzurri are short of attacking options.
He scored his first international goal in November's win in Poland, but was dropped for the next squad as punishment for his indiscipline at club level. Prandelli called his behaviour "a sign of weakness", adding "you can't be in the national squad if you risk leaving the team with 10 men."
RECORD AGAINST REPUBLIC OF IRELAND
Curioso. Italy have won seven of 11 meetings, but the Irish famously upset the Azzurri at USA '94, and also pulled off a surprise win when they met in a friendly in June.
BEST QUALIFYING PERFORMANCE
Italy's qualifiers

Result

Score

Opposition

W

2-1

Estonia (h)

W

5-0

Faroe Islands (h)

D

0-0

N. Ireland (a)

W

3-0 (awarded by Uefa)

Serbia (h)

W

1-0

Slovenia (a)

W

3-0

Estonia (h)

W

1-0

Faroe Islands (a)

W

1-0

Slovenia (h)

D

1-1

Serbia (a)

W

3-0

N. Ireland (h)

Top scorer: Antonio Cassano - 6
The Azzurri qualified comfortably, with their best performances coming on home soil. While the 5-0 thrashing of the Faroe Islands was their biggest winning margin for 17 years, it was June's 3-0 victory against Estonia that had the Italian media purring.
The Azzurri completed a remarkable 829 passes prompting somewhat fanciful comparisons to the 'tiki-taka' football played by Spain, who Italy beat in a friendly two months later.
However, it remains to be seen whether the Italians play the same free-flowing football when the pressure is on.
THE BOSS
After five successful years with Fiorentina, Cesare Prandelli agreed a deal to replace Marcello Lippi shortly before Italy's disastrous display at the 2010 World Cup. Prandelli quickly recalled Antonio Cassano, and has also put his faith in younger players such as Riccardo Montolivo and Sebastian Giovinco.
He has been credited with improving the atmosphere within the Italian camp, and adopting a less confrontational approach with the media, who had lambasted the team's performance in South Africa.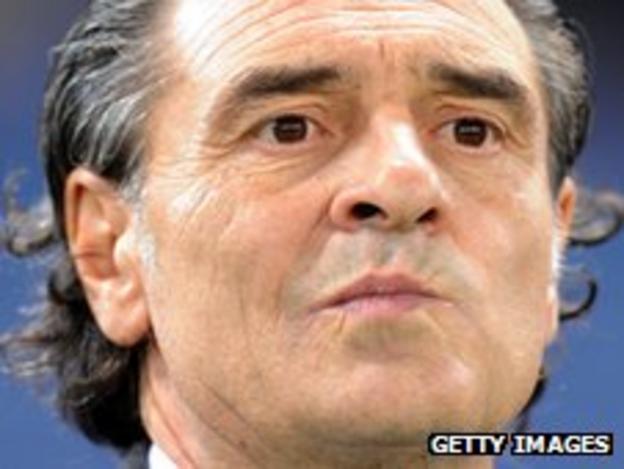 He laughed off defeat to the Ivory Coast in his first game, pointing out that Lippi also lost his opener yet was a World Cup winner two years later. His positive demeanour saw journalists dub Prandelli's side L'Italia del Sorriso - Italy of smiles.
EUROPEAN CHAMPIONSHIP PEDIGREE
You could argue the Italians have under performed in continental competition. They have reached the semi-finals only twice (including a run to final in 2000) since winning the tournament on home soil in 1968.
WORLD CUP RECORD
Not too shabby. The Azzurri are four-time World Cup winners - only Brazil can better that record.
2012 OLYMPIC HOPEFUL
The 'Lioness of Verona', Federica Pellegrini will be one of the main threats to Great Britain's Rebecca Adlington in the 400m freestyle. The 23-year-old finished a disappointing fifth in Beijing but her personal best is still a second better than Adlington's.
FAMOUS FACE
There's no doubting the most infamous visage in Italy. Recently deposed Prime Minister Silvio Berlusconi, 75, owes his surprisingly youthful looks to plastic surgery and a hair transplant.
NUMBER ONE EXPORT
Carla Bruni. France's former First Lady was born to wealthy parents in Turin but her family moved across the Alps in the 1970s, when Red Brigade militants threatened to kidnap Italy's rich and famous.