Roy Walker has until New Year to restore Ballymena fortunes
Last updated on .From the section Football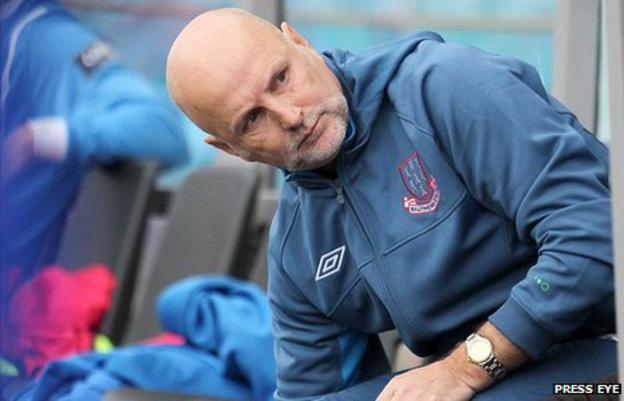 Under-fire Ballymena United manager Roy Walker has indicated that he will step down from the job in the New Year if results don't improve.
The Ballymena boss said on Wednesday night that "discussions have taken place and we've agreed to review the position at year end".
"If interim progress has not been made then changes will," added Walker in a statement on Ballymena's website.
Walker asked Ballymena fans to "support the lads over the next few weeks".
The manager has come in for criticism from fans, even though the Sky Blues are well clear of the danger zone and have reached the League Cup semi-finals.
Home form has been United's weak spot, with just one win from nine.
Walker, who led Crusaders to two league championships and also managed Glenavon, opted to skip his usual media interviews last Saturday after United were hammered 7-3 at home by Cliftonville.
Later, however, he outlined his position to a local paper, the Ballymena Times.
"No-one needs to tell me where the deficiences are in our team. I can see the same things as the supporters do.
"I have been bluffed to an extent by some players but I am happy to take the flak from the supporters because it was me who brought those players to Ballymena and me who has played them."
Ballymena will be at home to Crusaders in the semi-finals of the League Cup on 13 December.
This Saturday, they are at home to Dongel Celtic - a match their supporters will feel could bring them a second Premiership home win of the season.
In away league matches, United have won five out of eight.