Kettering Town boss worried about fielding side
Last updated on .From the section Football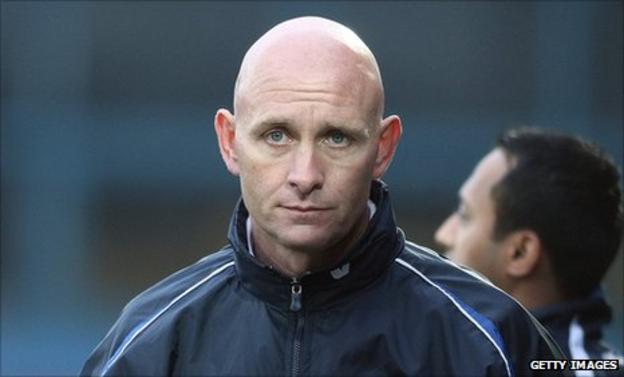 Kettering boss Mark Stimson has said he will be under "extreme pressure" to field a side on Saturday, should a planned player exodus take place.
Poppies chairman Imraan Ladak believes as many as 10 players could leave Nene Park by Thursday's loan deadline.
That would leave Stimson short of options for Saturday's Blue Square Bet Premier visit of Grimsby.
"If 10 go, it does put us under extreme pressure to fill the side on Saturday," Stimson told BBC Radio Northampton.
"We've got some youth players registered and some boys who've been coming from up and down the country. But we'll have to have a discussion with them."
and Adam Cunnington have already left the club after Ladak placed every member of the squad on the transfer list.
And with the team having failed to receive their most recent wages in full, Stimson said numbers have been low in training, as players cannot afford to travel.
"There were four there on Tuesday," he said.
"It's down to not being able to get in for financial reasons or knocks. Obviously, as a manager you try to plan and it doesn't help with such low numbers."
Ladak had already highlighted his frustration with the current squad.
On Wednesday he told the Kettering Evening Telegraph: "It has now got to the point where I am not willing to supplement the players' wages for what they give us.
"Four or five should be going in the next 24 hours and another four or five will be in the 24 hours after that.
"They have decided to fight with each other and lunge in and try to injure other players. They have decided not to train hard enough, not eat the right foods and go out at night. It's their fault and I am not willing to pay their money and the football club can't."
The Poppies chief added the club's finances are in a "serious situation" and he will consider offers to sell up.
"There have been bits of interest in the club from external parties," he said.
"We are happy to discuss anything with anyone in the best interests of the club.
"We have never officially said the club is up for sale. We have just said that if there is a party that can come in and do more then we would talk to them.
"There is sponsorship money that I know is owed. If enough players go and we get the money then we will be OK.
"The club is not finished or anything like that. But it is in a serious situation."
Meanwhile, the Poppies have added former loanee MK Dons striker Charlie Collins on a one-month deal.