Mohamed Bin Hammam appeals against Fifa lifetime ban
Last updated on .From the section Football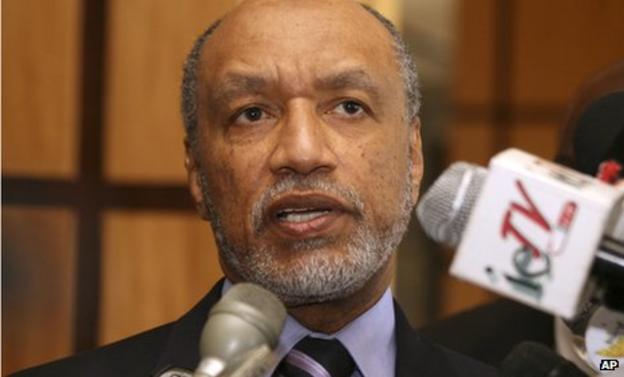 Mohamed Bin Hammam has lodged an appeal with the Court of Arbitration for Sport (Cas) against his lifetime ban.
The former head of the Asian Football Confederation was suspended by Fifa in July after being found guilty of attempting to buy votes in the world governing body's presidential election.
"The appellant requests the annulment of the FIFA decision," said Cas.
Hammam's withdrawal from the Fifa presidential race in May allowed Sepp Blatter to be re-elected unopposed.
A date for the hearing has yet to be set.
Bin Hammam, 62, said he would take the matter to Cas in September after Fifa turned down his original appeal.
It will be his second appointment with Cas, which earlier rejected his attempt to prevent China's Zhang Jilong replacing him as president of the Asian Football Confederation following his suspension.
Bin Hammam was banned after a leaked report revealed four Caribbean Football Union associations were offered money, or saw the offence occur, during a meeting in May.
It was alleged that cash-stuffed envelopes containing up to $40,000 (£25,000) were handed to delegates during the meeting in Port of Spain, Trinidad and Tobago.
The report said there was "comprehensive, convincing and overwhelming" proof that bribes had been paid to officials to support Bin Hammam's campaign for the Fifa presidency, and that Warner had facilitated this.
Last week six Caribbean officials - Patrick John, Vincent Cassell, Raymond Guishard, Noel Adonis, Tandica Hughes and Everton Gonsalves - were banned for their part in the bribery scandal, while Derrick Gordon was fined and reprimanded.
Bin Hammam, who has described the charges against him as "politically motivated", and Fifa will exchange written submissions before a date for the Cas hearing is set.