Neil Lennon encouraged move to bring Gordon Strachan back to Cetlic
Last updated on .From the section Football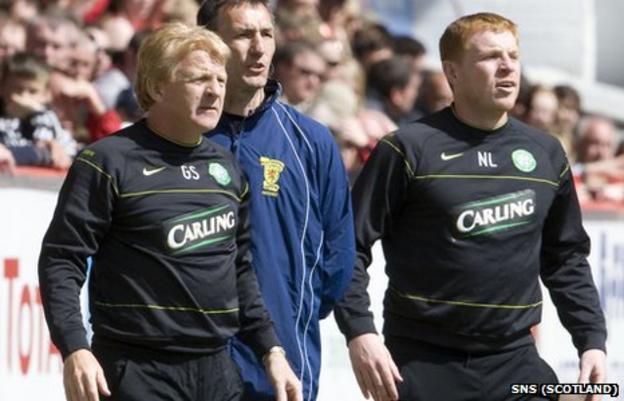 Celtic manager Neil Lennon has told BBC Scotland he supported a proposal to bring Gordon Strachan back to the club.
The former Parkhead boss was approached in September with a view to returning as a mentor to the Northern Irishman.
A deal could not be struck with Strachan, but Lennon says he was in favour of the idea.
"Gordon is someone I respect totally and he wasn't averse to the idea but it never materialised," Lennon told Sportsound.
"It was an idea that we've bounced around for quite a while. We were pretty close to it.
"But it was almost eight weeks ago now that the decision was made, and we've moved on since then.
"It is something that I'm not averse to, depending on who it is and whether the circumstances are right and whether we feel we need it."
Celtic approached Stuart Baxter about similar role when Lennon was first appointed, but Lennon says there may be be no need to bring in an older man.
"You're always looking to do better in life and this job being as big as it is, you don't always have the answers," he told BBC Radio Scotland.
"So maybe an older head might make us see things differently at times, but there's nothing happening at the minute on that score.
"The longer I go on in the job the less likely that scenario becomes."