Arsene Wenger shocked by Arsenal reaching last 16 before English rivals
Last updated on .From the section Football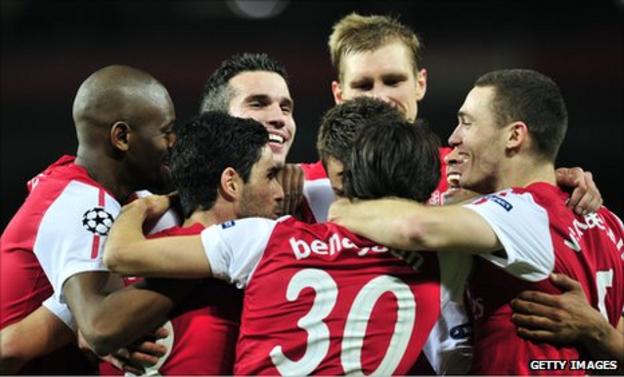 Arsenal manager Arsene Wenger admits he is shocked by his side becoming the first English side to clinch a place in the last 16 of the Champions League.
Doubts were cast over Arsenal's ability to reach the group stage after struggling past qualifying opponents Udinese in a poor start to the season.
"I am surprised that we are the first English team to qualify," Wenger said.
"When we drew Udinese in the qualifier, you couldn't bet exactly that we would go through like we have done so overall I am happy."
Arsenal scraped past the Italians with an unconvincing 3-1 aggregate win in a miserable August, which ended with a humiliating 8-2 thrashing against Manchester United at Old Trafford.
But they have got their season back on track with a nine-match unbeaten run and booked their last 16 place in Europe's elite competition ahead of United, Manchester City and Chelsea.
Wenger said: "Manchester United could have qualified [by beating Benfica on Tuesday] and of course everyone expects Man City to qualify.
"We were in a difficult group and I am very happy to see where we have come from.
"We came through a very difficult period because we were united and we worked hard together."
Robin van Persie scored both goals against Dortmund.
The brace took the Dutchman's tally to 31 goals in his last 34 games for Arsenal, before Shinji Kagawa pulled back an injury-time consolation for the Germans.
Wenger said: "At the moment Robin is an exceptional player. He takes advantage of our offensive style.
"He is the one who scores all the goals so we hope we can keep him fit and with us for a long time."