Luis Suarez living up to Kenny Dalglish mantle, says Mark Lawrenson
By Phil McNulty
Chief football writer
Last updated on .From the section Football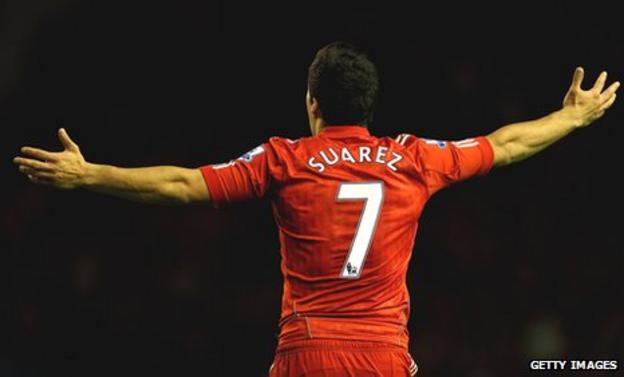 Former Liverpool star Mark Lawrenson believes Luis Suarez is the closest thing the club has had to Kenny Dalglish since the legendary Scot ended his playing career.
Uruguayan Suarez has been a huge success since joining Liverpool from Ajax in a £23m deal in January.
Lawrenson told BBC Sport: "Suarez could play for any team in the world and be outstanding."
Liverpool meet Premier League leaders Manchester City at Anfield on Sunday.
BBC Sport football expert Lawrenson believes it will show off the top-flight's two finest performers this season in Suarez and David Silva.
He said: "I wouldn't argue with anyone who says Silva and Suarez have been the best players in the Premier League this season. Along with Robin van Persie at Arsenal, they have been absolutely top class.
"Lots of players have arrived at Liverpool and been compared with Dalglish but I think he's the closest. He's still got a long way to go but he's got a lot of Kenny's qualities. He sees things others don't and will score and create goals."
Suarez is the latest Liverpool player to inherit the number seven shirt Dalglish wore with such distinction in an Anfield playing career that lasted from his arrival as a £440,000 signing from Celtic in 1977 until he decided to concentrate solely on management in 1990 after scoring 118 goals in 355 games.
Suarez replaced Fernando Torres when he left Liverpool for Chelsea in a British record £50m deal - and has since outshone his Spanish predecessor.
Lawrenson said: "In America, they would call Suarez 'a franchise player' - you sign him then you can build your entire franchise around him. I'm convinced he could play for any team in the world and be outstanding and the good thing for Liverpool is he is still learning.
"He's got raw ability, he's hungry and got real fight within him. He never gives up on anything and three or four times in a game he does things that will have you moving towards the edge of your seat."
Lawrenson also said he sees similarities between Suarez and another of his former team-mates from Liverpool's glory days, Dalglish's strike partnerIan Rush.
He said: "Suarez is a bit like Ian Rush in that he makes defenders nervous, he can smell the panic in defenders and takes advantage - which was something Rushy was so great at.
"Suarez is extremely hard-wearing, can take the knocks and bounces off defenders when they challenge him. There is no doubt he goes down a bit too easily at times but I think sometimes he does that to protect himself.
"He is also a team player and I'd hate to have played against him. You know that even on a bad day he is still such a good player. He will run and chase everything and despite having all that great individual ability he is a team player.
"Suarez is also the sort of character and player who will lift his team-mates. They will look around the dressing room, see a player of his quality ready to go out there with them and think 'we're going to be all right today.'"
Lawrenson is equally appreciative of Silva's brilliant contribution to City's start to the season, although he regards him as a different talent to Suarez.
"Silva is more elegant but he has ghost-like qualities as a footballer," says Lawrenson. "He just ghosts into great positions and what I love about him is that he always plays with his head up and his first touch is magnificent.
"Saying someone plays with their head up may sound simple but I've seen plenty who don't and you might as well play with blinkers on if you keep your head down."