Northampton Town need to be boring like me - Tim Flowers
Last updated on .From the section Football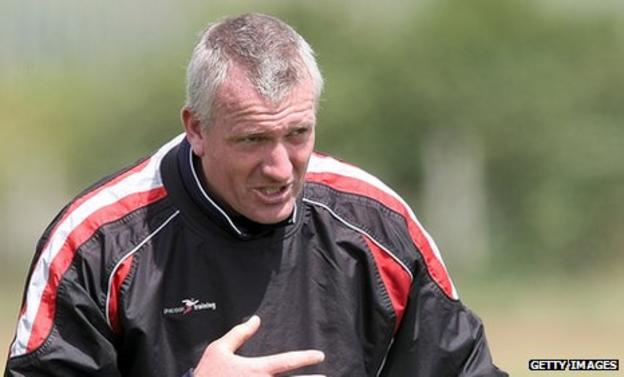 Northampton Town caretaker manager Tim Flowers has told his side to follow his lead and become more boring.
Former England goalkeeper Flowers wants the Cobblers to focus on defensive duties as they pursue their first win in nine games.
"Every good team I ever played in had a solid base to it," the 44-year-old told BBC Radio Northampton.
"We can't do 'you have a go, we'll have a go' like basketball. So we'll stick to trying to be like me, boring."
Flowers has stepped into the Sixfields hot seat after previous caretaker David Lee lasted just eight days at the helm.
And the ex-Blackburn keeper, who insists he has no interest in taking the job permanently, faces the task of inspiring a response from a squad that were in their last outing.
"I don't think we've got a bad player at the football club. We've got some super players," he said.
"For whatever reason - we've all been there - things happen in football.
"If you can't get up after being knocked down or being spanked once in a while then you're in the wrong game. Go and work in a shop or something.
"You can talk until you're blue in the face but come three o'clock on Saturday you've got to stand up for the club.
"We've let a few people down and we need to stand up and be counted."
And captain John Johnson has described Saturday's match at fellow League Two strugglers Plymouth Argyle as a "cup final".
"We're doing more on our defensive shape," he explained.
"Practise makes perfect and if we're practising a lot and getting it right it should eventually become routine.
"It gives you a better chance in the game as you know what the man next to you is doing so hopefully we can go to Plymouth and have a good defensive display.
"It's like a six-pointer down at the bottom so it will be like a cup final."
Northampton are three points from the relegation zone and visit a Plymouth team bottom of the table.