Petr Cech backs Chelsea manager Andre Villas-Boas
Last updated on .From the section Football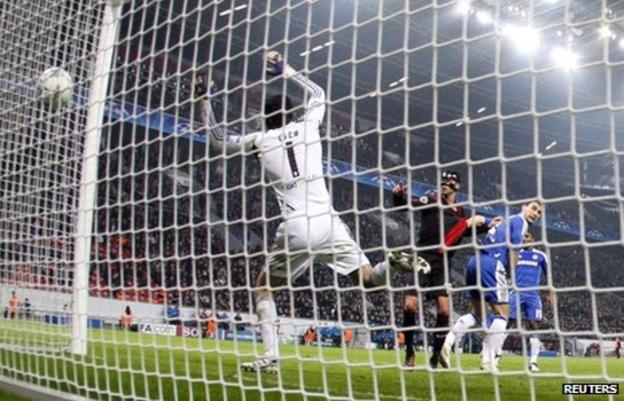 Chelsea goalkeeper Petr Cech says the team's recent form is down to the players - not boss Andre Villas-Boas.
A 2-1 defeat by Liverpool left them fifth in the league, and Champions League qualification is not guaranteed after defeat to Bayer Leverkusen.
"The manager is not on the pitch, we are on the pitch and we are making mistakes," 29-year-old Cech said.
"The players are to blame and we know it. I think we need to be much more aggressive in terms of defending."
Villas-Boas resigned as Porto manager to take charge at Stamford Bridge in June, after leading the Portuguese side to a treble of league title, Europa League and Portuguese Cup.
But the 34-year-old has been placed under even greater pressure by the recent availability of former Blues boss Guss Hiddink, who resigned as Turkey coach after they failed to qualify for Euro 2012.
Hiddink, 65, was a popular figure at Stamford Bridge when he replaced Luiz Felipe Scolari in February 2009 and led them to victory in the FA Cup final.
Premier League managers have offered their support to Villas-Boas, however, with Wolves boss Mick McCarthy - whose team face the Blues at Stamford Bridge on Saturday - commenting: "Anyone who has achieved what he has must have something about him. He's had the confidence in his own ability to come to England.
"I suppose no-one was talking about his age when he won what he did in Portugal.
"He speaks wonderful English and has a great command of the language and he seems like a bright, clever bloke. He has come into a different team that is changing. If he is as good as everyone thinks he is, let him get on with it, but it takes time.
"People think you can just turn up because good players are there and it's an easy task, but it's not. It takes time to mould a squad and get them to play your way and maybe get your own players in."
Swansea boss Brendan Rodgers, who was at Chelsea with Villas-Boas during Jose Mourinho's reign, said: "At the bigger clubs there is always lots of pressure to win games and every team will have their difficult moments.
"When you play the big games it is highlighted. It is a club in transition and he needs time and I am sure he will get that."
Following their defeat in Germany, Chelsea now need to beat Valencia or keep a clean sheet in their final Group E game against them on 6 December to avoid being dragged into the Europa League.
Cech said: "We have put ourselves in a difficult situation because we could have had qualification done a month ago but that is the way it is.
"The reaction of the players is that we can show on the pitch that we really mean what we say."