Swansea's Brendan Rodgers indebted to Aston Villa boss Alex McLeish
Last updated on .From the section Football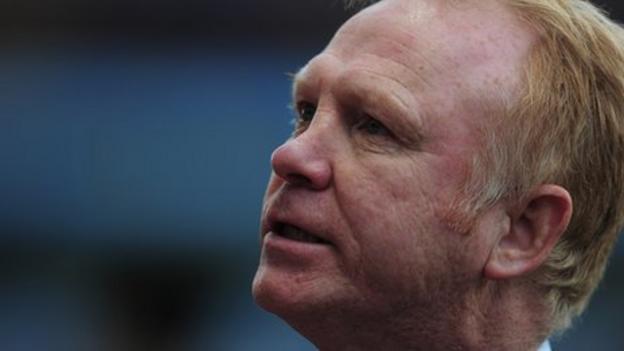 Swansea City boss Brendan Rodgers has hailed Aston Villa manager Alex McLeish for supporting him following his sacking by Reading in 2009.
The two friends will go head-to-head on Sunday as Swansea host Aston Villa in the Premier League.
Rodgers revealed he is indebted to McLeish, then Birmingham City manager, for the support he gave him during a difficult time in his career.
"I have an awful lot of respect for Alex McLeish," said Rodgers.
The Northern Irishman lost his job just six months into his tenure with Reading in December 2009.
He returned to the game the following summer when he was appointed Paulo Sousa's successor at Swansea.
Rodgers led Swansea to promotion to the Premier League following a 4-2 win over former club Reading in the Championship play-off final.
Rodgers, who is ready to commit to the Welsh club, still remembers the hurt of losing his job at Reading and the help offered to him by McLeish.
"When I lost my job at Reading it was the first time in my professional career where I had been out of work," said Rodgers.
"Football is a tough school as when you lose your job everyone calls and then everyone forgets.
"At the time it hit me hard and he was one of the first to text me, but on top of that he invited me up on to the training ground for the day.
"I arrived at half nine in the morning and from then until four in the afternoon he never left my side. I had a fantastic day with him.
"I felt a real sense of him being a great man and he understood and recognised in the position I was in that I needed the support, and I will always feel that was a very significant day for me.
"He was a terrific player and he has managed some terrific clubs, and at international level, and that is why I know how difficult this game will be on Sunday."
Swansea are currently five places and two points behind eighth-placed Villa in the Premier League table.
They suffered their first home defeat of the season last Saturday against champions Manchester United.
But Rodgers insists his side have moved on following the defeat and are looking ahead to the task at hand against Villa on Saturday.
"I have no worries whatsoever. These players know every game is a big game and it's my job to reinforce that," he said.
"Every game is vital and every home game in particular, we are not at that level where we can pick and choose when we will be at our best."