Cardiff's Earnshaw predicts muted response to Nott'm Forest
Last updated on .From the section Football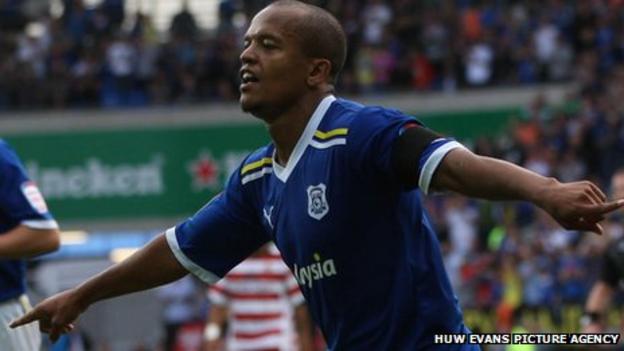 Cardiff City striker Robert Earnshaw has vowed not to celebrate should he score against former club Nottingham Forest on Saturday.
The Bluebirds are looking to extend their unbeaten run to eight games at the Cardiff City Stadium.
Earnshaw returned to Cardiff on a free transfer from Forest during the summer after three years at the City Ground.
"I've got total respect for Nottingham Forest and I wouldn't celebrate," Earnshaw told BBC Wales' Sport Wales.
"When I've scored against Cardiff it's always been muted [and] I think it's going to be the same.
Known for his celebratory back-flips, Earnshaw added: "I think it [celebrating] would be a little bit disrespectful. All the fans have still got respect for me and I've still got great friends there. I've only got great things to say about the club.
"This season they've struggled a bit. But it's going to be a tough one. Quality-wise I think it's going to be one of the toughest teams we've played against.
"On their day they can beat anyone and that's why we've got to be wary."
Malky Mackay's side are unbeaten in their last seven Championship games although Earnshaw says there is room for improvement ahead of a busy schedule.
"We can play better at times," added the former West Brom and Norwich striker.
"But the biggest thing is we've got wins. We've kept going and worked hard to get where we are.
"The next six weeks is very important. There's going to be a lot of games and a lot of teams starting to push up to the top of the league.
"This league is so tough that everybody beats everyone. It's just whoever holds in and around Christmas going into January and who has got that momentum.
"The thing with us over the last six weeks or so we've started to pick up a few wins which gives you confidence.
"At times we could have lost some of the games but because of that momentum of winning and that confidence we've picked up points."
Despite Cardiff's current lofty position in the Championship - they are in third having played 18 games - Earnshaw says it is too early to think about possible promotion to the Premier League.
"We're working hard to try and get wins and trying to pull away into that top three or four and try and stay there," added Earnshaw.
"If you've got that coming into March [then] that's the time you start thinking promotion or not.
"But now I think it's so far ahead that you don't even think about it."
Catch Sport Wales on BBC Two Wales on Friday at 2100 GMT