Man Utd manager Sir Alex Ferguson predicts goal-line technology delay
Last updated on .From the section Football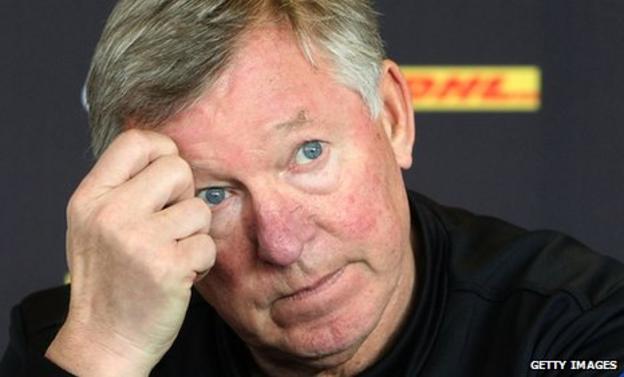 Sir Alex Ferguson does not believe goal-line technology will be introduced into the Premier League next season.
The Football Association (FA) this week raised the prospect of technology being brought in for the 2012-13 campaign.
Manchester United manager Ferguson said: "Of course it's a good idea but I can't see it happening next year."
Arsenal boss Arsene Wenger also supports the use of goal-line technology and wants it introduced as "quickly as possible".
"The sooner the better," he said. "I'm a big fan. I want more [technology], as much as possible. When you love football, you just want to reduce the level of injustice."
Wenger said technology should also be used for penalty calls and offside decisions but "only at the demand of the central referee".
Nine systems are currently under review by an independent testing authority employed by Fifa. A final decision is expected to be made in July 2012.
FA general secretary Alex Horne told the BBC: "It's possible we could see [technology] in the Premier League as early as 2012-13."
However, when asked about the likelihood of technology being used next season, Ferguson responded: "You sure about that?
"People throw ideas out but you've got to pass it through Fifa and Fifa have always been against it. So have Uefa.
"You can never stop progress but I don't think it'll happen next year."
Wenger told Arsenal Player: "I have always been a big fan of it and given it every support.
"There are no [doubts]. The concern is that the technology can make mistakes but we will still statistically improve a lot."
Horne said the technology would only be used to establish whether or not a goal had been scored, not for decisions such as offside.
Premier League chief executive Richard Scudamore has said England's top flight will use it as soon as it is allowed.
The International Football Association Board will not approve the introduction of any technology until after the European Championship, which finishes on 1 July 2012.