Referee Babak Rafati seeks return after suicide attempt
Last updated on .From the section Football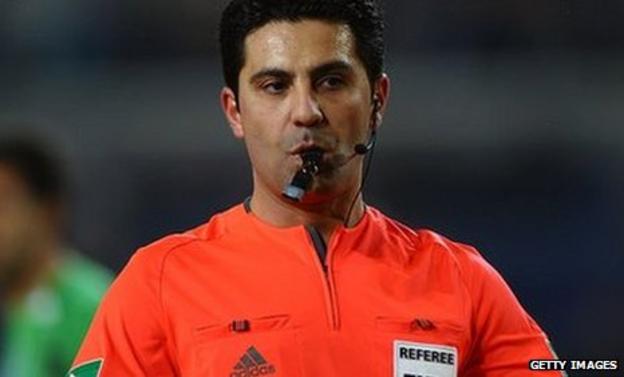 German referee Babak Rafati confirmed he is suffering from depression but would like to officiate again.
The 41-year-old attempted suicide last weekend before he was due to referee Cologne's Bundesliga match against Mainz 05, which was postponed.
Having been rushed to hospital, Rafati was discharged this week and is now receiving psychological care.
"Babak Rafati would like to referee again at the end of this therapy," his solicitor Dr Sven Menke said.
Rafati, who works as a banker, began refereeing German Soccer Federation (DFB) matches in 1997 and has officiated 84 Bundesliga games since his promotion to the top flight in 2005.
He was found by his assistants in his hotel room bath tub two hours before the scheduled kick-off having cut his wrists.
DFB president Theo Zwanziger praised the three officials for saving Rafati's life.
It is unclear how long the treatment for his illness will last but Rafati said he hoped to return "to normal life" as soon as possible, and asked to be left in "peace and quiet" in the meantime.
Dr Menke's statement was published by Germany's Bild newspaper and also said: "Together with his partner and his family, he has decided to inform the public of his reasons.
"The symptoms first appeared, according to his recollection, around one-and-a-half years ago and they have since grown in intensity. Mr Rafati felt a growing pressure to perform combined with the media pressure together with the constant fear of making mistakes, and this was leading to an ever-increasing burden.
"This burden was even making daily routine problems seem insurmountable and he no longer felt able to cope.
"He is therefore requesting the peace and quiet which he now needs for his healing process."