Lack of matches frustrates Swansea City striker Luke Moore
Last updated on .From the section Football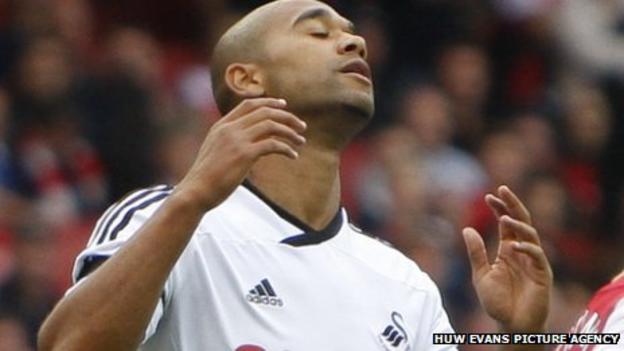 Striker Luke Moore has spoken of his frustration at a lack of first-team football at Swansea City this season.
"A lot of people think it's an easy job but it's not a nice job when you're sitting on the bench," said Moore.
"Football is a game of highs and lows. Obviously when you're not playing you're going to experience more lows."
Moore's only start for Swansea this season came in August's Carling Cup defeat at Shrewsbury Town.
His Premier League involvement has been limited to four substitute appearances but Moore says he is determined to secure a starting role.
"It can get you down but it's up to you to keep your head up and keep pushing and waiting for that chance," said the 25-year-old.
"You've got to stay positive. You work hard every day and you keep yourself in the best shape possible for when you get your chance.
"The manager [Brendan Rodgers] talks to me and I know the manager has faith in me. He appreciates my qualities.
"But at the end of the day is someone's doing well in your position there's nothing else you can do but work hard."
Moore would relish a chance against former club Aston Villa at the Liberty Stadium on Sunday.
The former England Under-21 international won the FA Youth Cup with Villa in 2002 and scored 14 goals in 51 league games for the club.
He left Villa Park to join West Bromwich Albion for £3m in the summer of 2008 but scored just five goals in two seasons for the Baggies.
A Villa fan, Moore considers the former European Cup winners among the Premier League's biggest clubs despite years of underachievement.
Alex McLeish's side are currently eighth in the Premier League and Moore believes the club are heading in the right direction under the former Birmingham boss.
"I can appreciate how big they are," said Moore. "When you look at English football it's easily in the top six clubs in the country.
"There will always be pressure but the fans are pretty good to be honest. They are more realistic because they are in a transition.
"Although the fans weren't very happy McLeish got the job, they'll see the bigger picture.
"To be fair you can't fault [owner] Randy Lerner. When I was there he was [a] top man, a really good chairman. The fans need to look at that and trust them.
"They lost big players in the summer so it's going to take them a little time to get settled again and push on again."
A contemporary of Moore's at Villa Park was England striker Gabriel Agbonlahor, a player whom he believes will be a threat to Swansea on Sunday.
"I think his biggest quality is he seems to know where the goal is," said Moore.
"Our defenders will definitely have to be on their toes and be very clever when they play against him."