Southend United get the Paul Sturrock treatment
By Chris Osborne
BBC Sport
Last updated on .From the section Football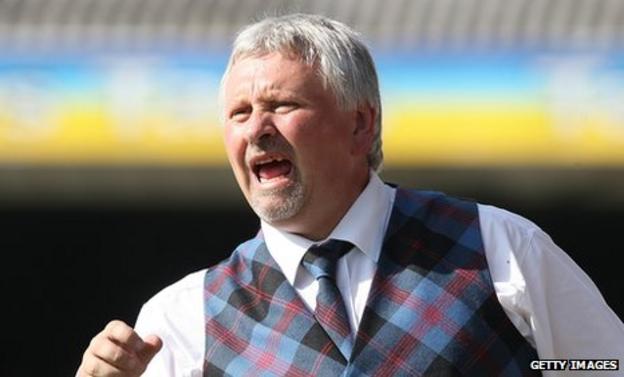 The Southend United training ground was an uncomfortably quiet place in the summer of 2010.
The Blues, recovering from relegation, were under a transfer embargo, in financial turmoil, facing winding-up bids and had only 10 players on the books.
Plymouth, Swindon and Sheffield Wednesday have all been in similar situations. They turned to Paul Sturrock to save the day. Southend followed suit.
"I came into nine players at the first training session," the Scot recalls. "Four or five of them gave me a letter of resignation because they weren't getting paid.
"Three of the ones that were left were young boys. Anthony Grant was the only one that played in the team."
Sturrock hurriedly recruited 17 new players but, because of the embargo, they could only sign pre-contracts.
Three days before last August's League Two opener against Stockport, it looked unlikely that Southend would be able to field a side.
"On the Thursday we had the youth team getting ready to play," he explained. "We were told on the Friday morning everything was fine."
Sturrock has made a niche for himself in football management. When a club has had a sledgehammer taken to it, he comes in and picks up the pieces and, more often than not, success as well.
He has officially won four promotions. However, the record books would read five had he not left Plymouth weeks before they secured the League One title in 2004.
And now, 17 months after stepping into a depleted Roots Hall, he has Southend top of League Two, riding the wave of a 16-game unbeaten run. History seems to be repeating itself.
"Sheffield Wednesday, I went in there and re-modelled them. Swindon, I did a re-modelling job as well and we got promotion," said the former Scotland international.
"There were similarities with Plymouth. I took over and they were bottom of the league. We had to bite, scratch, move players on and players in. There's definitely similarities.
"It's the kind of job I like and the kind of job people like me to do. I really enjoy it. But Southend was a real challenge."
It is obviously early days and Shrimpers fans will not be getting carried away with their blistering start to the season. They have seen enough drama in south Essex to know a plot twist is never far away.
But none of them can be as cautious as their manager. Unbeaten runs and occupation of the top spot in late November will .
"I would say I'm more pessimistic than optimistic," he explained. "I'm a superstitious man. I do silly superstitious things.
"I feel if you're not cautious you can get shot down in flames if you're too bumptious. I see other managers who laud themselves and I cringe.
"You're only judged by what you win. I've seen teams run away with it and faltered. I don't want that to happen to these boys.
"This league can bite you in the bum if your finger's not on the pulse."
And with the average tenure of a League Two manager standing at just under two years, Sturrock is taking nothing for granted.
"I'm on what? Seventeen months now? Let's just say I'm feeling old for the league.
"You can be the best thing since sliced bread one day and six games later you can be out the door."