Man Utd boss Sir Alex Ferguson issues Olympics warning
Last updated on .From the section Football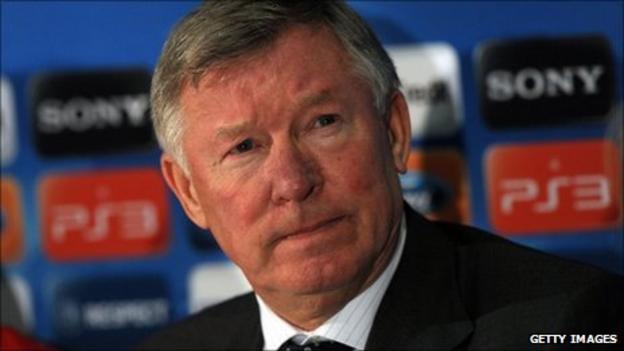 Sir Alex Ferguson does not want Manchester United's young players selected for both the European Championship and 2012 Olympic Games.
England's Football Association has suggested players taking part in June's Euro 2012 could also feature at the Olympics in July and August.
Ferguson said: "I know they're young, fit and eager, but they will need rest.
"I wouldn't like to see our young players who might be involved in Euro 2012 being selected for the Olympics."
Team GB's football manager, Stuart Pearce, is yet to reveal any firm selection plans, although former England captain David Beckham, 36, has stated he is keen to play as one of three over-23s allowed in the 18-man squad.
Writing in his United Review matchday programme notes ahead of Saturday's Premier League game against Newcastle, Ferguson added: "Manchester United might well have a direct interest in this with our up-and-coming youngsters like Danny Welbeck, Phil Jones, Chris Smalling and Tom Cleverley now on the international scene.
"I welcome their involvement at international level but if they go to the Euro finals they will need a break.
"I am sure Stuart Pearce will bear this in mind. I certainly hope so because I wouldn't like to see them burnt out before they have really started."
Former Scotland manager Ferguson also admitted he had concerns over any of his compatriots playing in the tournament, but acknowledged that United's Welsh winger Ryan Giggs might deserve the chance to play.
"Speaking as a Scot I would say it is a no-no for us in case [world governing body] Fifa seizes the opportunity to try to make the home countries play together as Great Britain all the time, and we wouldn't want that," he said.
"Having said that, Pearce made sense when he pointed out that a player like Giggs, who has missed out on playing in the major international tournaments with Wales, might welcome the opportunity to play in the Olympics as one of the over-age players.
"It might well appeal, and at the end of the day I suppose it is probably best left to individual choice."
Fifa boss Sepp Blatter said in March that the Celtic nations' international status would not be affected by their players' turning out for a Great Britain Olympic team.