Mokoena backs Pitso Mosimane for 2013 Cup of Nations
Last updated on .From the section Football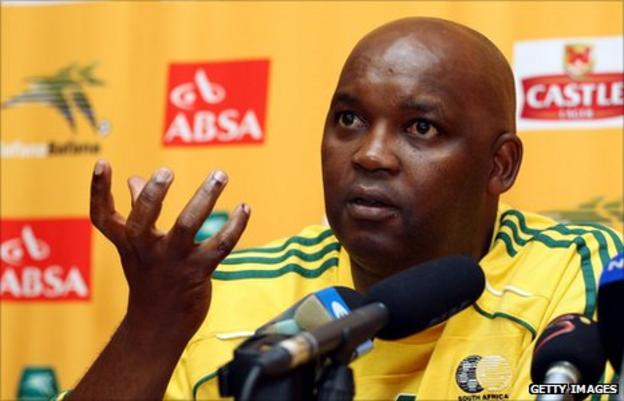 Former South Africa captain Aaron Mokoena thinks Pitso Mosimane is still the right man to lead Bafana Bafana to the 2013 African Nations Cup on home soil.
The Portsmouth defender has was dropped by Mosimane for the home qualifier against Egypt back in March having won a record 107 caps for his country.
South Africa went on to miss out on qualification for Gabon and Equatorial Guinea as Niger finished top of Group G on head-to-head records after the teams finished level on points.
Despite overseeing the costly mistake that saw Bafana play for a draw in their final match against Sierra Leone rather than press for the victory they needed, Mokoena believes Mosimane should retain his post.
"Pitso has done it all in terms of experience of playing and coaching at home and abroad, working as assistant at the World Cup and now as the number one," he told BBC Sport.
"Nothing has changed and it is just the manner of our failure to qualify that has made people raise their eyebrows.
"It was a real shame we didn't qualify and to not make it to the finals for the second time in a row is not good for the country.
"We had it in our hands but now we have to look ahead to 2013 and the World Cup in Brazil."
Mokoena spent five seasons at Blackburn Rovers and joined Portsmouth in 2009 after spells in Germany, Holland and Belgium.
He has made eight appearances this season in the Championship so far and is hopeful that the arrival of new manager Michael Appleton may give him the opportunity to feature more regularly.
"The new manager is quite young and seems very eager to play his own style of football," he said.
"This season started well for me and it was quite unfortunate I got ill and lost my place in the team. I'm not going to complain if I don't play but it I know it's important to be patient and give him time to settle in."
With 18 months of his contract in England remaining and having only turned 31 at the end of November, Mokoena has yet to announce his retirement from international football.
And while Bafana Bafana's youngest-ever player does not expect to get the chance to add to his record tally of caps in the immediate future, he does remain open to wearing the national team's colours again.
"I'm in a position where I'm available but that is how I've always played throughout my career," he said.
"Nothing has changed - I'm waiting for a call. I'm still too young to retire from international football and if a call comes, I'll be on the first flight to accept the call. At the end of the day, it's up to the manager but I will always be available for my country until the day I finally hang up my boots."