Portuguese positivity returns to Stamford Bridge
By Owen Phillips
BBC Sport
Last updated on .From the section Football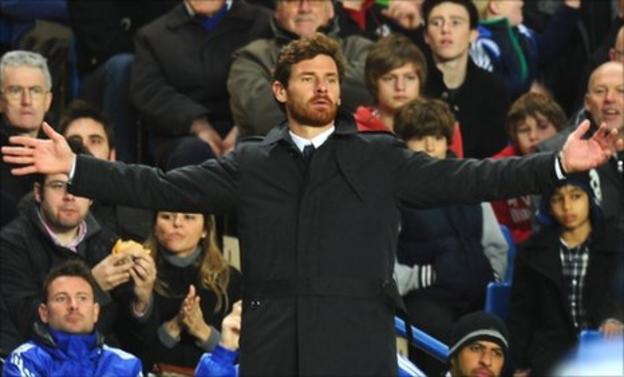 Andre Villas-Boas hasn't had much to smile about in recent weeks, so the under-fire Chelsea manager certainly seemed intent on making the most of a rare chance to forget his troubles after the routine 3-0 win over Wolves.
The 34-year-old was in fine form, smirking, chuckling and belly laughing his way through much of a relaxed and entertaining near 10-minute news conference.
It was reminiscent of the style of another Portuguese manager - Jose Mourinho, who won two consecutive Premier League titles during his Stamford Bridge reign from 2004-07.
Villas-Boas acknowledged John Terry's "unlucky" injury-time yellow card for time wasting, which brings a fifth caution and means his suspension is served in Tuesday's Carling Cup quarter-final against Liverpool, with a wry grin and knowing look.
And he also implored the assembled media to "look on the positives" despite the club's recent alarming dip in form.
"Within so many negatives I would like to recall, so you don't get distracted, that we are two goals off being the second best attack in the Premier League. So maybe you can focus on that a little bit more," Villas-Boas playfully teased.
His genial demeanour was in stark contrast to the forlorn and somewhat shell-shocked figure who has been forced to fend off some heavy criticism following back-to-back home Premier League defeats by Arsenal and Liverpool and a demoralising last-gasp loss against Bayer Leverkusen.
"I have to reflect on the games that went past and we didn't deserve to lose. We showed things that could have won these games," Villas-Boas insisted.
With Chelsea's title charge seemingly in tatters and their Champions League progress now dependent on getting a positive result against Valencia next month, a victory over lowly Wolves was the only option.
Terry's early header, a wonderful midfield display inspired by the majestic Juan Mata and a typically endlessly energetic performance from Ramires, meant the result was never in serious doubt.
But there are significantly more difficult challenges ahead and the win, however welcome, does not mean all is well despite the relieved Portuguese's cheery call for positivity. Simply put, Chelsea have failed to beat one of the top sides this season.
And Villas-Boas is under no illusions as to the task they face to claw back the gap on pacesetters Manchester City.
The negativity Villas-Boas alluded to has ranged from talk of his "inevitable sacking", player unrest, the desperate need for an experienced assistant to help him and the impending departure of one of his coaching staff.
But the Blues boss is having none of it, insisting he does not need or want help, that the team is full of belief and talent, that he trusts his players and that rumours assistant Roberto Di Matteo will leave are "completely false".
Villas-Boas also believes the title is still a realistic possibility.
"To be a continuous threat in terms of the top we will need to continue to win," he said. "We have the game against Newcastle soon and the game against the leaders to show that we are a quality side. It was important to get back to winning ways but we have to get consistency.
"To be competitive in terms of the Premier League we will need to have a good December. We have difficult, difficult games but that can make the difference for us in the table.
"It's two wins and one loss [from the last three league matches]. We need to get something from the December fixtures. We need to get a winning streak like we did last season. We have the talent, and the belief will be the last thing to die with us."
He won't like comparisons with compatriot Mourinho, but there was more than a shared Portuguese homeland to link the two in a carefully constructed and considered "knockabout" chat.