Algeria captain Chalali slams Benaldjia over red card
By Nick Cavell
BBC Sport, Morocco
Last updated on .From the section Football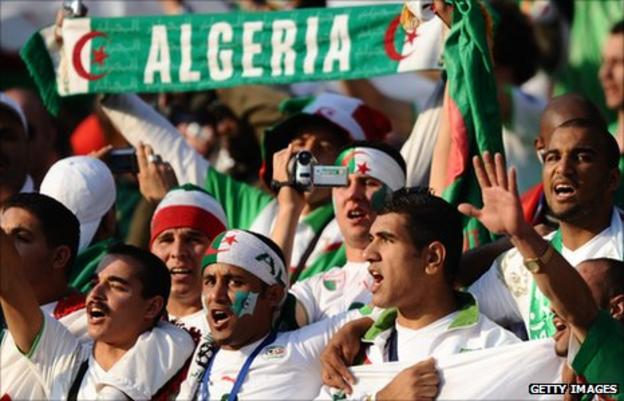 Algeria captain Mohamed Chalali has branded his team-mate Mehdi Benaldjia 'stupid' following his dismissal at the African Under-23 Championship.
Benaldjia was shown a second yellow card after arguing with the referee.
This was after he was booked for taking off his shirt to celebrate the winning goal.
"It's the fault of the player. He is young and a good player but sometimes he is too crazy," Chalali, who plays in Scotland for Aberdeen told BBC Sport.
"He scored but he doesn't have to take his shirt off because this is stupid."
Chalali said he had spoken to the team about discipline on the pitch.
" I didn't see the second yellow card but I said to my players don't speak with the referee don't take the shirts off," he continued.
"This is damaging for the team and for him because he will miss the next game but this is football and this is life."
However, Chalali was grateful to Benaldjia and the rest of the team for getting the win after he had missed several chances to score.
"Thank God we won because if we didn't win tonight I wouldn't have been able to get on the bus and I'd be staying here [in the stadium]," Chalali joked.
"This is something that happens I had a lot of chances but I also had bad luck - I hit the bar just like I did for my club Aberdeen last week.
"But I want to say all the team worked very hard and thy didn't let their arms drop when me and others missed some chances.
"I have extra motivation to score one goal against our brothers Morocco - I think it's going to be a very big game and a good game.
"I hope that both Algeria and Morocco will go to the semi-finals - it will be great for both countries."
Algeria play Morocco on 29 November in Tangier in what will be both sides second Group A game.
The African Under-23 Championship is also the qualifying tournament for the men's football tournament at the Olympics in London next year, the top three will get automatic places.