Kilmarnock must build on Rangers win, says Kenny Shiels
Last updated on .From the section Football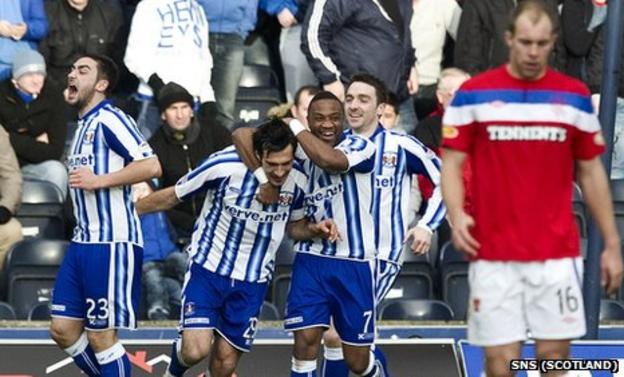 Manager Kenny Shiels was thrilled to beat Rangers but has warned his Kilmarnock team they must repeat the standards reached at Rugby Park.
"I told the players it will only be a good performance if they perform like that against Aberdeen," Shiels told BBC Radio Scotland after the 1-0 victory.
"There's no point in just turning up for the Old Firm. I won't accept that.
"Sometimes performances and outcomes don't match but I felt they did today. It was a fantastic win for us."
Rangers were aiming for their 15th consecutive league win on the road but Manuel Pascali grabbed the only goal late on to ensure three points for the home side.
"We were a bit fortuitous when they hit the post but we restricted them to late chances," added Shiels.
"If they get their noses in front, they are impregnable."
Kilmarnock last beat Rangers on home soil in 1994 and Shiels used the triumph to issue a rallying call for more backing at Rugby Park.
"I'm especially pleased for Kilmarnock folk who support Kilmarnock," the Northern Irishman said.
"I genuinely feel that should be the parochial thing for every community. People from Paisley should support St Mirren, people from Motherwell should support Motherwell and people from Kilmarnock should support Kilmarnock.
"In Ayrshire you have a lot of Old Firm supporters, who, in my opinion, are not real supporters.
"The real supporters have had to wait 17 years for that and I'm delighted for them more than anything."
Pascali nodded a high ball launched back into the penalty box over Rangers goalkeeper Allan McGregor, with Sone Aluko coming off the line slowly from a corner and playing the Italian onside.
And the Kilmarnock captain confessed to being surprised at the slack defensive work from Ally McCoist's side.
"It's a day to remember for myself and for all Kilmarnock supporters," he enthused.
"I was lucky to be in the right spot at the right moment.
"I thought I was 10 metres offside, so I put the ball in the net to just do something, maybe something funny.
"Then I turned round and saw one of their players running from the post."
Pascali was full of praise for defensive partner Mohamadou Sissoko and the energy shown by all of his team-mates.
"I've been here for four years and we have never beaten Rangers, so I knew that was coming," he added.
"Everyone was up for this match, especially after the horrible performance against Inverness.
"Sissoko, for me, he is one of the best defenders in the country.
"Sometimes he's a little bit crazy and sometimes he's too relaxed.
"He can give you a heart attack but today he was brilliant, along with the rest of the team."