Juninho backs Neil Lennon to succeed with Celtic
By Alasdair Lamont
BBC Scotland
Last updated on .From the section Football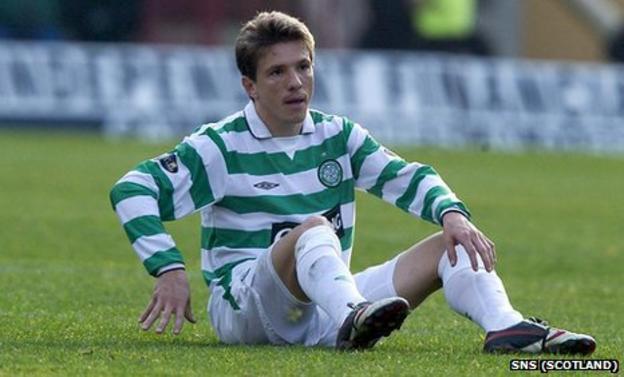 Former Celtic forward Juninho saw enough of Neil Lennon in his short period at the club to be convinced that the Northern Irishman had a bright future in coaching.
The Brazilian World Cup winner, who also played for Celtic's Europa League opponents Atletico Madrid, identified Lennon's man-management as the key element to his success as captain of the club, and the principle portent of what lay in store.
"He had all the qualities to be a good manager, to become a big name in managerial terms," Juninho, now president of the Brazilian side Ituano, told BBC Scotland.
"He was also a manager on the pitch, talking to the players all the time, trying to organise the team, and I think he knows how to deal with players."
Asked about the pressure and expectation those involved at Celtic have to cope with, he added: "As a player he did it, now he needs to do it as a manager, but that's normal when you're in charge of a big club.
"They expect the results and when the results don't come they want to change, and the first person to change is the manager. I don't think that's right, but it's the way football is and I think he knows how to deal with the pressure."
Despite playing for less than a season at Celtic Park, Juninho savoured the experience of playing in huge European matches against Barcelona and AC Milan.
"It's incredible to play big games like that," he continued. "The supporters go to the ground differently from the way they go to other games. It's a different atmosphere.
"When Celtic play at home, their supporters are incredible - 60,000 of them - so it's always difficult to play against clubs like Celtic at home."
Attendances and Celtic Park's fortress-like quality on big European nights have diminished somewhat since Juninho's time at the club.
Nevertheless, he believes Celtic - and Rangers - are the equal, in terms of stature, of clubs like Atletico, despite the discrepancy in quality of their respective leagues and television-generated income.
Juninho looks back on his time in Glasgow with some regret, having failed to reproduce the form that won the hearts of Middlesbrough fans.
"I expected it to be different because when I spoke to Martin O'Neill he was very excited to bring me to Celtic, so I imagined he knew [my best position]," he went on.
"When I arrived, he wanted me to play like the fourth man of the midfield and I normally played behind the striker or up front with the striker.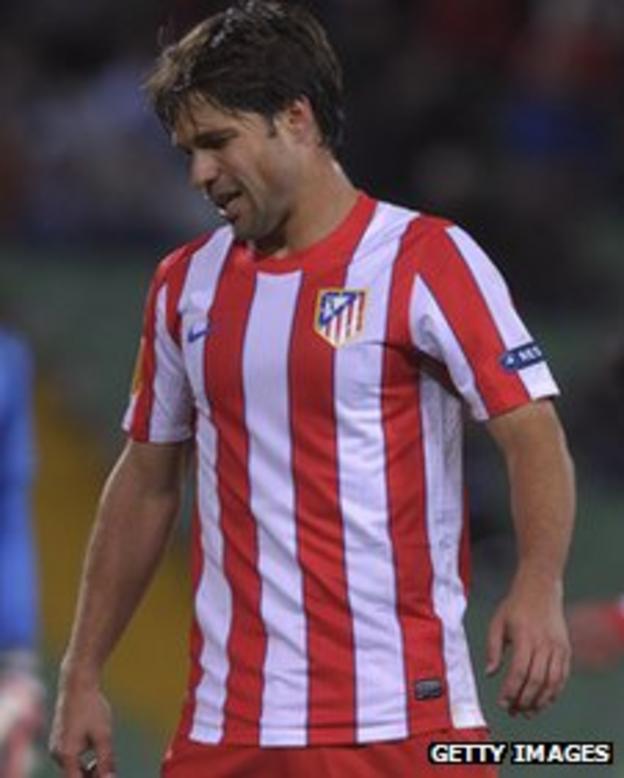 "Then in my first game I had a dispute and I don't think he had the patience with me. I had to adapt to Scottish football and to Celtic and that's why I couldn't play like I wanted to at Celtic.
"I don't blame only O'Neill. I was upset with me too because I didn't play my best at Celtic."
Juninho's time at Atletico Madrid was also less than successful, despite a promising start, principally because of a broken leg he suffered before his first season at the Vicente Calderon Stadium was up.
"My first six months were fantastic. I was playing well, the team was playing well and then everything changed after my injury. When I came back it wasn't the same," he admitted.
Juninho confesses to knowing little about the current Celtic team, or that of Atletico Madrid, owing to the number of Brazilian games he has to watch.
But he highlights Atletico's Brazilian playmaker Diego as one of the principle threats to Celtic's chances of victory on Wednesday.
"He always looks to the opposite goal, and I like that kind of player. When he has the ball, he always thinks to play up front and that's why he can cause a lot of damage to the other teams."
His primary concern, though, is Ituano, the club with whom he started his career in 1989 and where he is now president.
"There's not much time for anything else. The administration is a lot of work, but I'm enjoying this other part of my life," he concluded.