Tim Flowers fears non-league future for Northampton Town
Last updated on .From the section Football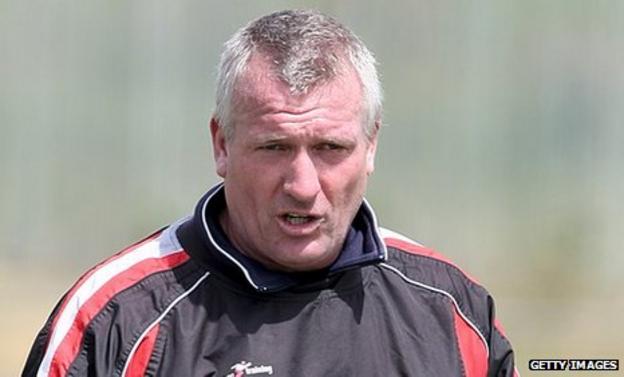 Northampton Town caretaker boss Tim Flowers has warned his players they are at risk of being consigned to the "graveyard" of non-league football.
And they are now three points above the League Two drop zone.
Flowers told BBC Radio Northampton: "The Blue Square Prem is littered with clubs that have gone and not come back. It's a graveyard of clubs like us."
He continued: "If you go down it's a really strong league down there.
"Fundamentally for this football club, whoever comes in, mission A is please keep this team in the league."
The former England, Blackburn and Southampton keeper stepped in as temporary manager last week after David Lee lasted just eight days in the caretaker role, following Gary Johnson's departure.
And with Northampton 4-0 down by half-time against Argyle, Flowers made it clear how he would have reacted in his playing days.
"I've played behind teams and if that would have happened it would have kicked off at half-time," he said.
"There would have been people getting thrown all over the gaff.
"It's scary. It's schoolboy. It's unbelievable. I've come in at half time thinking, 'It's four - we're lucky it's not eight'.
"We were second best to everything all over the field of play.
"It's got to become a football sweat shop. You've got to drill and drill and drill until people understand what they've got to do.
"You've got to work as a unit and it's something whoever comes in has got to address.
"These coming weeks we'll find out if they've got the heart for the fight."