Gary Speed would have become a great manager - Robert Earnshaw
Last updated on .From the section Football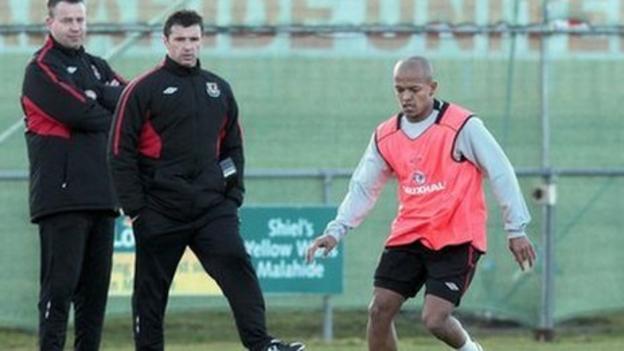 Wales striker Robert Earnshaw believes Gary Speed had the ability to become one of football's best managers.
Speed played for Wales alongside Earnshaw and was more recently the 30-year-old's international manager.
"He was going to go on and be one of the best managers around, and in the world," said Earnshaw.
Speed was appointed Wales manager in December 2010 and despite losing four of his first five games, he led the side to four wins in the five matches that followed.
Arsenal midfielder Aaron Ramsey, who was appointed Wales captain by Speed earlier this year, said: "The world has lost a great football manager but even more sadly a great man."
And Earnshaw added: "I thought he was so far ahead of so many people on what he was trying to achieve. It just showed his drive to be better than everybody else."
"He inspired the whole Wales football set-up to make it top class.
"He had us believing we were going to qualify for the next World Cup. It's going to be so hard not to have him around."
Midfielder Speed was Wales captain when Earnshaw made a goalscoring international debut against Germany in 2002.
The former Leeds United, Everton, Newcastle United, Bolton Wanderers and Sheffield United midfielder succeeded John Toshack as national team boss last year.
In an emotional interview with BBC Radio Wales, Earnshaw said he had been left shocked by the death of a man who was Wales' most capped outfield player, having represented his country 85 times.
"It's a horrible, horrible thing, never mind for me and players that have been working together over the last year, but for his family as well," added Earnshaw.
"It's hard to describe him in a few minutes because I can talk about him for ever, really.
"I'm lucky enough to have played with him and lucky enough to have had him over the last year as a manager.
"It was great having him around the place and leading and, as a person, for me he was an absolute top, top guy.
"He was so driven and inspirational. You couldn't help but totally respect him."
Another former Wales international, midfielder Matthew Jones, who won 13 caps between 1999 and 2003, remembers a man who helped him as a youngster at Leeds United.
"All I can think of is a true friend in my life," said Jones. "Gary made an impression in the football world.
"Whether you're a football fan or just in general, if you've come across Gary Speed, you would have been touched by him.
"That memory will always stick by you because he was such an inspirational role model.
"There are so many positive and nice things we can say about that gentleman.
"He made an impact in my life and, not only did he do that, I think that impact will stay with me for the rest of my life."