QPR looking for sites in west London to build a new stadium
Last updated on .From the section Football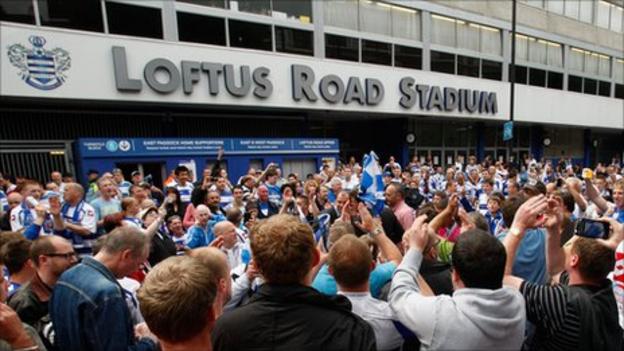 Queens Park Rangers are looking for sites for a potential new stadium in west London, the club's owner Tony Fernandes has revealed.
Fernandes says he believes the club can attract a fan base of up to 45,000.
"It's still premature," he said. "The key this season is to survive, but we would like a bigger ground.
"It has to be in the area. It makes no sense to move out from where you have spent most of your life, and where the fan base is," he continued.
"I've built airlines and Formula One teams, but building a stadium is not the easiest thing in the world. There are opportunities in west London we are looking at."
The club first moved to Loftus Road in 1917 but after leaving twice for short spells at White City Stadium, they returned for the last time in 1963.
The current capacity is just over 18,000, making Loftus Road the smallest ground in the Premier League, but Fernandes believes a new ground will attract a new generation of fans.
"Some fans are saying 'We don't have a fan base bigger than 20,000'," he said.
"My gut feeling is 40-45,000. That's double where we are right now, but we're in London and there's a strong catchment area.
"Of course, there is nothing worse than a half-empty stadium, but I'm the king of sizing.
"If you start an airline with two planes, and then you buy 150 planes, the same question can be asked."
Fernandes insists the priority for the club now is to make sure they remain in the Premier League.
They currently sit 11th in the table, just six points clear of the relegation zone, but Fernandes is eyeing additions to the squad in January.
"We have to strengthen our squad. It's just not deep enough," he said.
"I feel we maybe need three, four players. We could end up with none if we don't find anyone."
The news comes just days after Chelsea announced they were exploring the possibility of moving from Stamford Bridge to Battersea Power Station.