Assistant manager Kenny McDowall pleased with Rangers position
Last updated on .From the section Football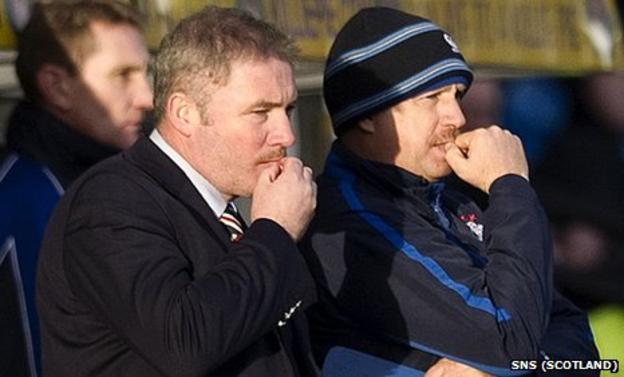 Assistant manager Kenny McDowall insists Rangers are happy with their progress so far this season, despite Sunday's defeat by Kilmarnock.
"We are nearly at the halfway stage and we are four points clear," he said. "We are disappointed to lose the game but their guys have been great.
"At the start of the season we would have accepted that.
"We've just lost our first game of the domestic season, which is not too bad so we are quite happy."
Celtic won their game in hand last midweek against Dunfermline and then hammered St Mirren the day before Rangers' loss at Rugby Park, meaning the Ibrox side's lead at the top of the Scottish Premier League was cut from 10 to four points within a matter of days.
"When you've got a big lead, complacency can set in but we don't feel that's been the case," insisted McDowall.
"We were a bit unlucky yesterday not to get the goal. We probably deserved a point from the game but it wasn't to be.
"We just need to kick on again. When you've got a lead it's there to be shot at and that's what's happened."
New signing Sone Aluko played Manuel Pascali onside as the Killie defender headed the Ayrshire side's winner but McDowall absolved the winger of any guilt.
"Sone did very well in the game and was unlucky not to score on two occasions - one was cleared off the line and the other hit the post," said the Rangers assistant.
"We were well pleased with him. It was just a bit unfortunate at their goal that he got caught last man. That can happen. We were delighted with his performance.
"He's a professional player and he will get on with it."
Aluko could feature in Rangers friendly against Hamburg in Germany on Tuesday.
"He obviously needs the fitness and he did well to last as much of the game as he did yesterday," said McDowall.
"It's the second day after the game which isn't ideal but we will have a look at it and hopefully get him some match-time."