Wales' efforts will honour Gary Speed's memory, says Joe Allen
Last updated on .From the section Football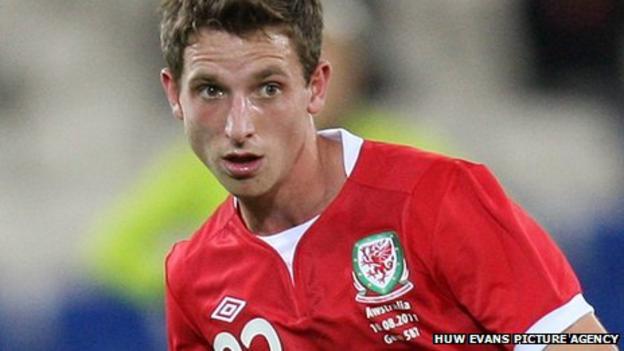 Rising Wales star Joe Allen has added his voice to the torrent of tributes made in the wake of manager Gary Speed's shock death.
The Swansea City midfielder, 21, says Wales' players will be determined to fulfil Speed's dream of qualifying for the 2014 World Cup in Brazil.
"Gary Speed had a dream of getting this team to a World Cup," said Allen.
"And everyone will give it everything we've got to make sure we try and achieve that in honour of his name."
Allen was first capped by John Toshack against Estonia in 2009 and has made three full appearances and one as a substitute under Speed, who took over in December 2011 in the wake of Toshack's departure.
Wales won the three games in which Allen started under Speed, the October 2011 Euro 2012 qualifiers against Switzerland (2-0) and Bulgaria (1-0) then went on to play his part in the 4-1 win over Norway this November.
Those wins underlined the fresh hope and expectation built up under Speed.
"Obviously it was devastating news," said Allen.
"He was a special person first and foremost and a special football man who we're all deeply saddened to have heard the news about and we are going to miss him.
"He was a great inspiration. Even before I had a chance to meet him and before he became manager, he was a player that I had watched and admired whilst growing up and to have had the pleasure to have worked underneath.
"And to have known him was incredible.
"Every single player in that Welsh squad can and will say the same and he'll be sorely missed by everyone.
"His experience at the top level, whether it be for club or country was second to none and that experience... he inspired us to perform and play as a team and that's something none of us will ever forget.
"We'll represent him every time we go on to the football field."
Allen admits it was "almost impossible" to focus ahead of Swansea's 0-0 Premier League draw against Aston Villa on Sunday as the news of Speed's death spread.
He added: "It was incredibly difficult [to play]. It was almost impossible to focus and prepare yourself for a game of football when you hear such tragic and devastating news.
"But we spoke amongst each other and we knew that he would have wanted the game to go ahead since he was a football hero and a football man himself."