Stourbridge boss Gary Hackett's FA Cup journey continues
Last updated on .From the section Football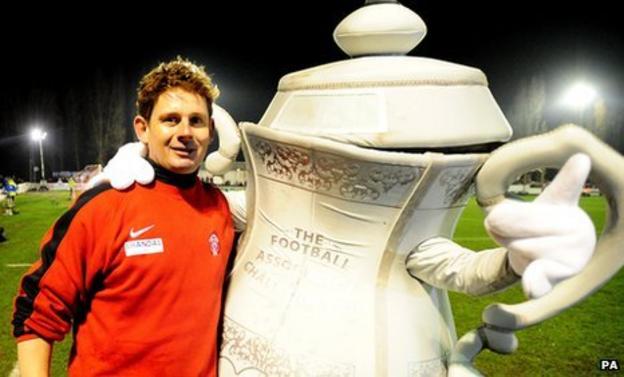 Stourbridge boss Gary Hackett's place in FA Cup folklore was already assured long before his Glassboys humiliated Plymouth Argyle in round one.
Hackett starred on Match of the Day when he hit Shrewsbury Town's first goal in a 2-0 fourth round slaying of then big boys Ipswich Town in January 1984.
And he cheerfully admits it is a goal he has dined out on down the years.
"Every week, it got shown at the start of Grandstand, sandwiched between Seve Ballesteros and John McEnroe," he told BBC Sport as his side prepare for Saturday's second round clash with Stevenage.
"It would have been a good question for Sue Barker. Who was the one in the middle?
"I don't think too many would have heard of me."
Hackett is all too modest. The Stourbridge-born winger enjoyed a decent Football League career for over a decade, after first being snapped up for Shrewsbury from non-league Bromsgrove Rovers by Graham Turner in 1983.
His eye-catching goal against Ipswich came later that season, en route to an eventual 3-0 fifth round defeat at Everton, who went on to win the Cup.
But although Turner left for Aston Villa at the end of that season, Hackett played three more seasons at the Gay Meadow under Chic Bates before being signed by Mick Mills for Stoke.
When Alan Ball moved him on to his boyhood heroes West Bromwich Albion, he continued his footballing education under a string of Baggies bosses - Brian Talbot, Bobby Gould, Ossie Ardiles and Keith Burkinshaw -before leaving for Peterborough.
After finishing his career with one last injury-hit season at Chester under Mike Pejic and Kevin Ratcliffe in 1994-95, Hackett recognised the need to find a career outside football and began working for a chemical suppliers in Kidderminster, Chemi-Kal, for whom he still works as company secretary and sales manager 15 years on.
But, for the last eight years, after cutting his teeth in management back at Bromsgrove, and allowing for the fact that his 15-year-old son is a West Brom season-ticket holder, Hackett's primary football concern has been Stourbridge.
Two promotions in that time have elevated his side to eighth in the Southern League Premier, eight points behind leaders Leamington, but with five games in hand thanks to their Cup distractions which has seen them score an impressive 19 goals in six games.
And, after claiming the scalp of Plymouth, Stourbridge would love another one - although recognising that Stevenage, still going well in League One under Graham Westley as they chase a third successive promotion, are a different proposition.
"Beating Plymouth was a great achievement," said Hackett. "But beating Stevenage would be incredible.
"They've come a long way themselves over the last few years. But I know if we played them 40 times over the course of a season, there would be bound to be days when we caused an upset. We just have to make sure that day's on Saturday."
The first round 3-3 draw at Home Park made local heroes of the Glassboys' scorers, centre-half Paul McCone, a former Wolves trainee, Walsall old boy Sean Geddes and striker Ryan Rowe, who works for his father's firm in Kidderminster.
Worcester bricklayer Aaron Drake and wide man Sean Evans, once on the books at Manchester United, then received even more adulation for the goals that won last week's replay in Amblecote.
Another hero against Stevenage could really open the financial floodgates - not that Hackett is thinking of anything other than more Cup glory.
"We know there are financial considerations," he said. "Just from TV highlights and Budweiser, the competition sponsors, we'll pick up £9,000 this weekend - that's six weeks' wages.
"But we're not in it for the money. It's the kudos. For the likes of Man United and Arsenal, the Cup might have lost some glamour but, at this end of the competition, it's still massive.
"We got a lot out of it when we made the first round and played Walsall two years ago. But we're loving every minute of this season's Cup run and the longer it goes on the better."