FA Cup giantkillers Redbridge hope 'luck' holds out
Last updated on .From the section Football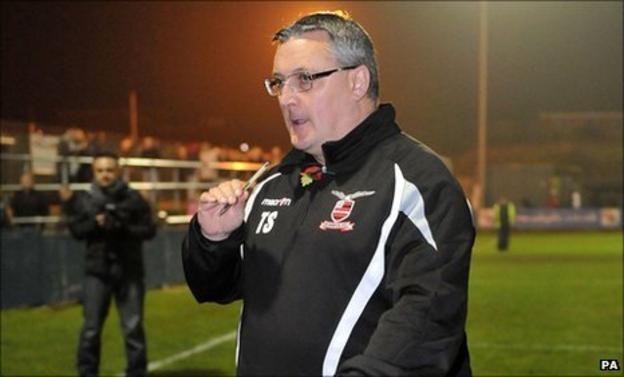 There has been one car fewer on the streets of London in recent days as Redbridge plot another giant killing on their remarkable FA Cup run.
The Motormen, who play in the Isthmian League Division One North, English football's eighth tier, have already knocked six teams out on their FA Cup run, including four sides in higher divisions.
But on Saturday comes the biggest test of all - away at
And Redbridge manager Terry Spillane, a taxi driver by trade, is preparing for the biggest game in his side's history.
He told BBC Sport: "It's the furthest we've ever been. It's the biggest game for all of us: all of the players, myself and the club - without a doubt. It's dream time, it's something we never thought would come our way.
"It's been tough to concentrate on my job. I've had to have a few days off here and there to get things right in my head. The last thing you want to be doing when you're driving the busy streets of London is thinking about football."
Chairman Dan Holloway, who recruited Spillane in the summer from Stansted, agreed that the club have never known a match like this.
He said: "It seems like every other week at the moment we've got the biggest game in our history. Getting to the first round was fantastic and a massive achievement but round two brings us into new areas completely."
Redbridge have been in the FA Cup proper before, but under an old name.
As Ford United they reached the first round in 1998 and 2003, losing to Preston and Port Vale respectively, before their 2004 name change, made in a bid to garner more support.
"I'm hoping all the local people in our borough, which is one of the biggest in London, show a bit more interest and come to watch us in the league," Spillane said. "They can support and build the club up and take the club forward.
"The chairman has big plans for the club. He wants to go up through the leagues. I'd like to go some way to help him."
And Holloway said: "If we keep going with the development that we have shown in a short space of time, we have every chance of taking the club up to Conference or maybe even the Football League."
The chairman is keen to stress that their budget is nowhere near that of some of their rivals: "There is no playing budget. They've all got full-time jobs. They're lucky if they get expenses paid.
"There are 20 or 30 volunteers involved in the club. It's a family-run club."
Midfielder Ben Bradbury was the hero in the first-round replay win over Oxford City, scoring the extra-time winner, his fifth goal of this season's FA Cup run.
He said: "It was an unbelievable feeling. Everyone is buzzing for it. It's not every day you get to play in the second round of the FA Cup.
"We trained on Tuesday night. It was a good session. We'll train again on Thursday, probably go through a pattern of play."
Spillane said: "We're preparing exactly the same. It's got us where we are so there's no need to change. Obviously we're playing against the Manchester City of League Two.
"We know it's mission impossible. But underdogs do have their day. Whether we've used up all our luck in the previous rounds remains to be seen.
"We've played Ebbsfleet, no-one gave us a chance. No-one gave us a chance in the replay against Oxford City. So we've got to believe we can win it."
Holloway agrees: "Any game is winnable. We would never have dreamed three or four months ago that we would be talking about being in round two. So for me to say it's impossible would be unfair."
And 23-year-old Bradbury is dreaming of a tie with one of the big boys: "We're going to go there and give it a good go. We've got this far so you never know. We're potentially one game away from Old Trafford."