Off The Bawl - 27 November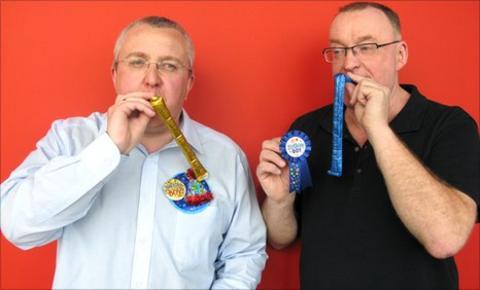 Off The Bawl with Tam Cowan.
Greeeeeetings!!! The best pair of guests ever. That's how Stewart in West Kilbride described Saturday's duo Frank McGarvey and Love & Money frontman James Grant.
Frank, as we discovered, courtesy of Peter in North Kelvinside, is the only player to have won every available league winner's medal in Scotland (Celtic in the Premier League, St Mirren in the First Division and Arbroath in the Second Division).
And James also had his fans. Susan in Dundee said: "I saw Love & Money at Dundee Uni in 1986 and cracked a rib getting to the front of the stage to see James at close quarters. He touched my hand and I was so giddy with excitement that I went round telling everyone that James DEAN had touched my hand."
With a St Mirren legend in the studio, we asked what the Paisley Buddies mean to you.
In the week Pete Best (the man who could have been a Beatle) turned 70, we wanted to hear what you've nearly done.
And with the Peter Pan of Pop's 2012 calendar outselling Michael Buble, Westlife and One Direction, our Team of the Week was the Cliff Richard XI.
Here's another selection of the most petty and ill-informed texts and emails on radio...
WHAT DOES ST MIRREN MEAN TO YOU?
John Cairns said: "Seeing the great Ruud Gullit playing for Feyenoord at Love Street. Different class."
Andrew the Jambo in Blairgowrie said: "St Mirren only have negative connotations for me. On May 3rd, 1986, they lay down to Celtic. I've never forgiven them."
OJ Wolf said: "I'm a Celtic man and I was at Love Street the day we won the league in '86. I was on the telly jumping up and down behind the great Arthur Montford. It was magic and I now have a daughter who I called Mirren, partly because of that unforgettable day. The only downside is that she now supports St Mirren."
A spokesman for the Dumfries Morton Supporters' Bus said: "St Mirren? We're only halfway up the M74 and we can smell Paisley from here."
Jags Man in Bearsden said: "To me, St Mirren simply means Paisley Panda - the best pre-match entertainment ever!"
Jim Nicol in Lenzie said: "I remember Paisley Panda getting a red card for feigning sex with a blow-up sheep versus Aberdeen, wiping his bum on a Falkirk training top and throwing bars of soap into the Morton support."
Anon said: "Paisley Panda's best gesture towards the Morton fans was the giant tree air freshener he hung in the goals at the away end at Love Street. Brilliant!"
WHAT HAVE YOU NEARLY DONE?
Bill in Edinburgh said: "I nearly went back to a hotel room with Captain Beefheart, but I rather lamely told him I had to work the next day."
Barney in Neilston said: "I very nearly got on as a sub for Rangers after the great Gordon Ramsay tragically broke his leg in the Champions League final. Being the trooper that he was, however, he just stuck on an Elastoplast and went on to score a hat-trick. So near and yet so far!"
Allan in Glasgow said: "I nearly had a text read out on Off The Ball..."
TEAM OF THE WEEK
The Cliff Richard XI
Ground: The Millennium Prayer Stadium
Manager: Harry Webbknap
1/ Olivia Newton-John Martin
2/ Jim Weir All Going On A Summer Holiday
3/ Hank Marvin Andrews
4/ Darren or Derek Young Ones
5/ Alan (Una) Stubbs
6/ Paul Powers To All Our Friends
7/ Alfie Conngratulations
8/ Tennis Bergkamp
9/ We Don't Talk Any Stan Collymore
10/ Lionel Messitoe and Wine
11/ Kris Bachelor Boyd
AND FINALLY...
In the week of The Leveson Inquiry, we chucked in one extra topic: What riles you about the Press?
Stevie fae Greenock said: "What I hate about the papers is that the Page 3 burds in The Sun never get any older. Linda from Canterbury has been 23 for the last six years."
PS. The song that played us out? In the week Scotland starlet Barry Bannan got an 18-month ban for being steaming at the wheel, we finished with a wee line from Cars.
"Who's gonna drive you home tonight...?"
To join in the fun on this Saturday's show, call 0500 929500, text 80295 or email offtheball@bbc.co.uk
Listen to the most recent Off the Ball programmes.
Download the latest Off the Ball podcast.