Three past Telford 'legends' look to future success
Last updated on .From the section Football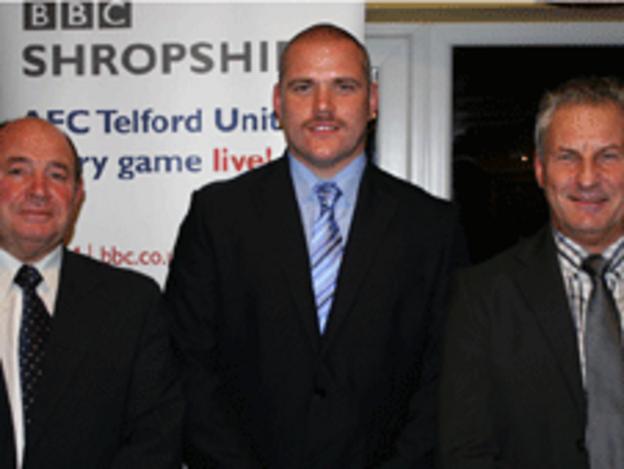 Three men inducted as Telford United legends have predicted a big future for the the current AFC Telford club.
Mickey Fudge and Dave Mather were FA Trophy winners at Wembley in 1971 and 1983, and defender Jim Bentley enjoyed cult status for five years.
"There's still a winning buzz here," Fudge told BBC Radio Shropshire.
"This is a fantastic club with fantastic people that can do what we never did - get into the Football League," Mather added.
All three were the latest inductees into the Telford Hall of Fame - Fudge along with the entire of the 1971 Trophy-winning side.
Seven members of that team gathered for the joint award, marking the day the old Telford United won only the second FA Trophy competition.
Beaten by Macclesfield 12 months previously, the Bucks returned to beat Hillingdon 3-2, with Fudge hitting the winning goal.
It was quite a comeback, but he recalled: "There was a bit of a bust-up in the dressing room at half time. We were two down at half time, overcome by the occasion, and I remember our manager Ron Flowers was furious,
"He told us 'Even if you lose 5-0, you've got to have played with pride - so go out there and give it a real go'."
Mather was a prolific scorer who earned the nickname The Missile. Not only did he score both goals that beat Northwich 2-1 in the 1983 final, he was also part of the Telford side that became the scourge of Football League sides in the FA Cup - and reached the fifth round in 1985 before losing bravely to then league champions Everton at Goodison Park.
"We were a team on and off the field and never thought we'd be beaten," Mather added, "and that should be a winning philosophy the Telford team today."
Bentley, the current Morecambe player-manager, has a strong affinity to Telford, having followed his father Jack to the Bucks Head.
"I might be a Morecambe man now but Telford feels like home," he said.
The late Jack Bentley was one of the first ever legends to be inducted at the annual Telford Hall of Fame awards.