FA Cup: Chelmsford City chairman takes the club to heart
By Chris Osborne
BBC Sport
Last updated on .From the section Football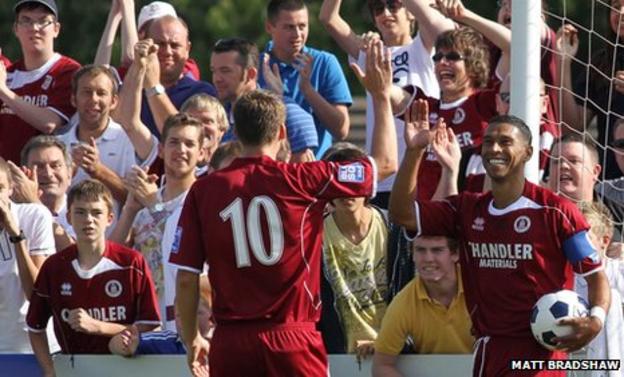 Becoming the chairman of a football club has rarely been prescribed as an affective tonic for a quadruple heart bypass.
But for Mansell Wallace, taking over the reins at non-league Chelmsford City, who host Macclesfield in the second round of the FA Cup this weekend, seemed like the logical step following a heart attack four years ago.
"You have a life threatening occasion and it makes you take stock of what you're doing in life," the 62-year-old explained.
"All I was doing was living to work. I decided I wanted to do something else so I got involved with my local club.
"I've never looked back and now it's a passion to me as well."
The Clarets are a study in unfulfilled potential. Competing in the upper third of the Blue Square Bet South, Chelmsford has a population of over 150,000, but the club's nomadic history has hampered their ability to drop anchor and establish a fan-base.
In 1997 they became homeless and had to share digs with neighbours Maldon Town and later Billericay Town. It was 2006 when the Clarets came back to roost at their brand new Melbourne Park ground. Their return caught the eye of a recovering Wallace.
"I was convalescing, reading the paper and thought 'Chelmsford are back in town now, I need to go down and have a look at that'," he recalled.
"Some people I knew said 'why don't you get involved with the club'. From what I could see the club was being run by well-meaning individuals as a hobby.
"But it's not a hobby, it's a business. And I told them I would come in and turn it around as a business.
"We run the club the way it should be run and it's paying dividends on and off the field."
Mansell, who is the managing director of a national electrical contractor, recalls his first ever visit to the Clarets in 1959. Fittingly it was an FA Cup first round loss against Crystal Palace.
"I still have the programme," he chuckled.
Fast forward to 2011 and victory over the Silkmen would put his side through to the third round for only the third time in their history. A positive result could alter the destiny of the club.
"If you're drawn to one of the Manchester Uniteds or Arsenals you're talking about a £1m pay day," said Wallace.
"It would absolutely change the future of our club. You can buy promotion with that kind of money.
"But of course it has to be sustained. What we will never do is pour money in that can't be sustained."
Wallace is backing manager Glenn Pennyfather to mastermind an upset over their Football League opponents, especially after a in the previous round, a side one league above them.
"Macclesfield aren't going well. We are going well," he continued. "And a lot of football is about confidence.
"The one thing we probably have that they don't is a passion for it. Our players are really up for it because every game at the moment is an opportunity for them."
A tense affair in Essex on Saturday could get the heart racing. And Wallace is prepared.
"Well I haven't had another heart attack yet," he joked. "But sometimes I wonder. Luckily I'm on beta blockers."