Motherwell manager Stuart McCall for Friday football
Last updated on .From the section Football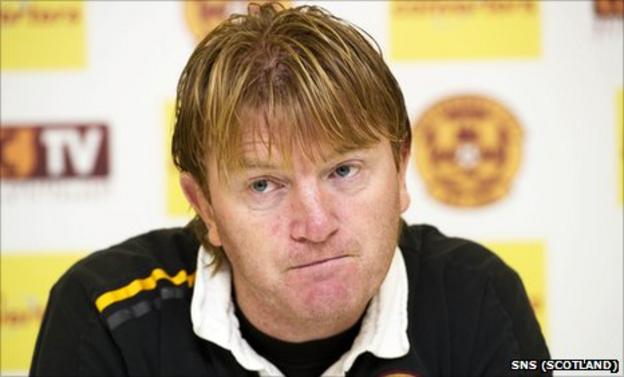 Motherwell manager Stuart McCall believes Friday night's encounter against Hibernian could inject some life into Scottish football.
Friday night Scottish Premier League games were piloted last month when Aberdeen beat Dunfermline 4-0.
"We need to do more to get the public back and paying to watch us," McCall told BBC Scotland.
"But I think we've got to do everything we can to get the product on the park decent, first and foremost."
Scottish police forces have previously been reluctant to allow Friday night football given their need for resources in city centres, although top-flight matches were played in the slot in the mid-1990s at the behest of TV companies.
McCall feels any new initiatives are worth experimenting with if it helps to bring more fans in through the turnstiles.
"It would be nice if it was a summer's evening - but it's not," said McCall.
"We're all traditionalists with three o'clock kick-offs on a Saturday.
"But hopefully, it'll be a good night."
"It's worth a go - most clubs will have a go at it this season, outwith the Old Firm.
"I've had mail from people who normally play on a Saturday or coach, are going to be able to come along and watch us on a Friday, when they wouldn't normally be able to on a Saturday.
"We'll see how it goes - but hopefully, we'll get a good turnout.
"We're trying to encourage more visiting support to come along and let fans bring drums and flags to create atmosphere.
"But we need to look at the price too - everything about it."
Last season, Scottish football was hit by call-offs due to the heavy snowfall, and Saturday's match at Fir Park against Dundee United came in for heavy criticism due to high winds that hampered play - so McCall believes it's important to give the fans a decent product.
"Last week, the entertainment value was poor because of the conditions, and we know it's all about winning. But when people get up and go home, have they been entertained?
"That's what we want to try to do, but we've got to look at the pricing too."