Algeria demand US$1m compensation from Cameroon
Last updated on .From the section Football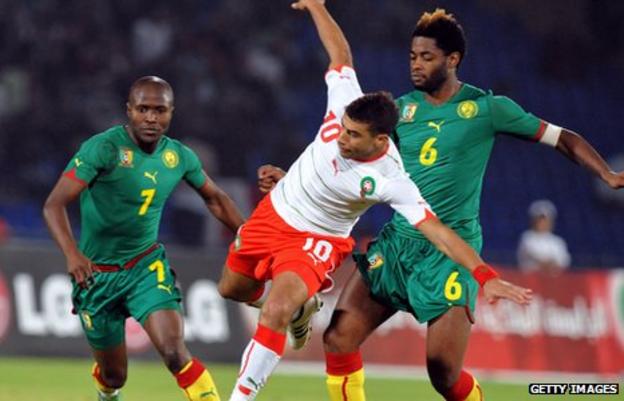 Algeria are seeking $1m compensation from the Cameroon Football Federation (Fecafoot) for failing to turn up for a friendly earlier this month.
Algeria are seeking to recover costs after the Cameroon players refused to travel for the game.
"Algerian Football Federation has sent a bill to Fecafoot for $1m," Cameroon sports minister Michel Zoa said.
In a statement to Cameroon's parliament, Zoa added that the presidents of the two countries' federations met in Paris this week to try and reach agreement on a compensation package but without success.
The Algeria Football Federation (FAF) blamed an "internal administrative problem" at Fecafoot for the game's postponement.
According to Zoa, the Cameroon players had demanded a bonus payment worth the equivalent of $1,026 each for playing in the game, but that the money never reached them on time.
"There is no problem with the payment of bonuses, (but) a crisis of confidence between the federation and the players," added Zoa.
The row broke out after the team played two games, against Morocco and Sudan, in Marrakesh ahead of the match in Algiers.
Bonuses and appearance fees for the mini-tournament were not paid and the players decided not to go to Algeria in protest.
The failure to pay bonuses and appearance fees on time is part of a long-standing dispute between Fecafoot and the country's sports ministry, which largely funds the international team.