Manchester City top Premier League list of agent fees
Last updated on .From the section Football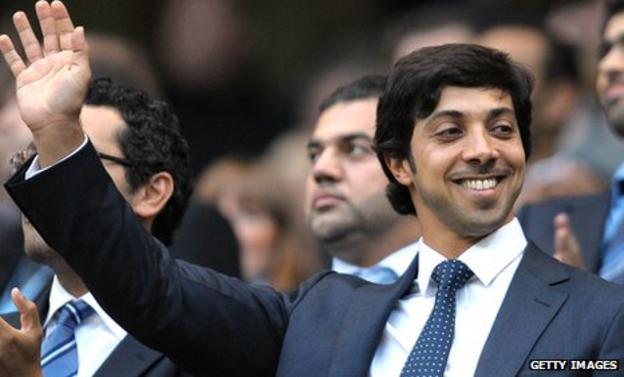 Manchester City spent more than any other Premier League side on agents' fees over the past year with £9.66m going to player representatives.
Tottenham spent the second-highest amount, committing £7.57m to agents with Liverpool third on £7m.
Champions Manchester United spent £4.46m, the seventh-highest amount.
The £71.87m total spent by the clubs between 1 October 2010 and 30 September is the highest since the Premier League first published the figures in 2008.
It is a rise of £4.73m on the £67.14m spent between over the previous 12 months.
City, who lead the Premier League by five points, have invested heavily to bring in a series a high-profile players since Sheikh Mansour took over the club in September 2008.
Over the most recent accounting period, Atletico Madrid's Sergio Aguero arrived for a reported transfer fee of £38m and Wolsburg's Edin Dzeko and Arsenal's Samir Nasri also signed in big-money moves.
The three lowest spenders included two promoted sides in Swansea (£248,000) and Norwich (£710,000), with Wigan having spent £659,000.
Blackpool, who stayed within strict financial constraints during their unsuccessful fight against relegation from the Premier League last season, spent just £45,000 on agent fees between October 2009 and September 2010.
Total money spent on agents (Oct 2010 - Sep 2011):
Arsenal - £4,648,532.17
Aston Villa - £3,163,320.00
Blackburn Rovers - £4,227,056.93
Bolton Wanderers - £1,941,896.08
Chelsea - £6,457,747.37
Everton - £2,931,127.10
Fulham - £951,245.50
Liverpool - £7,000,242.99
Manchester City - £9,663,700.00
Manchester United - £4,457,103.00
Newcastle United - £6,380,488.00
Norwich City - £710,251.75
Queens Park Rangers - £2,499,214.00
Stoke City - £2,207,698.11
Sunderland - £3,735,384.29
Swansea City - £248,633.00
Tottenham Hotspur - £7,571,815.27
West Bromwich Albion - £1,305,576.38
Wigan Athletic - £659,800.00
Wolverhampton Wanderers - £1,107,918.00