FA announces £200m grassroots football investment
Last updated on .From the section Football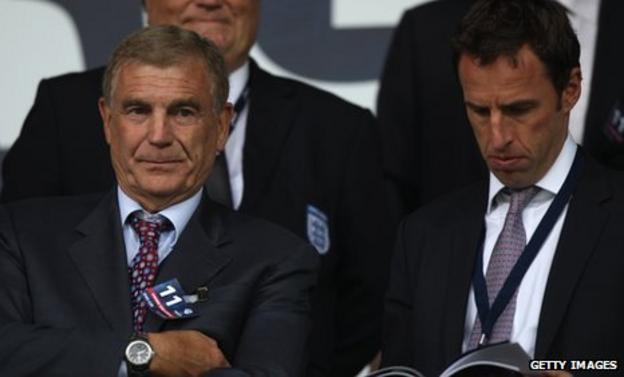 The Football Association (FA) has announced a £200m four-year investment in grassroots football.
It will be spent on a range of schemes, including trying to stop the fall in men playing 11-a-side.
Over the last five years the number of men's 11-a-side teams has dropped from 33,568 to 30,355.
The National Game Strategy also seeks to raise standards of behaviour among players and spectators, and reduce assaults on referees.
The FA consulted 25,000 people to determine its priorities.
FA general secretary Alex Horne said: "The FA is focused on delivering football for everyone, and we are proud of the success we have achieved over the last three seasons since our last National Game Strategy was published.
"By publishing our new refresh we are able to let our football stakeholders know that we have a robust framework in place to ensure funding is used to get more people playing the game, to protect facilities and provide a fun and safe football experience."
After its consultation with the likes of the National Game Board, county FAs and schools, the FA set the following priorities until 2015:
providing flexible formats of football, such as 60-minute matches, to suit the changing lifestyles of players;

increasing football opportunities and the profile of women and minority groups;

raising the standard of player/spectator behaviour across the grassroots game;

retain and develop the existing number of grassroots teams;

bring in changes to youth football and maximise investment in facilities.
To stop the decline in adults playing 11-a-side football, the FA aims to improve access and quality of pitches, among other measures.
At the same time it wants to increase the number of small-sided teams from 28,370 to 30,000 and also address the fact that many people stop playing football between the ages of 14 and 19.
In the women's game, the FA will attempt to raise the number of 11-a-side teams from 1,437 to 1,500.
On the behaviour of players and spectators, the FA said it would "ensure respect is underpinned by robust sanctions".
For the development of young players, the FA is to implement recommendations of its youth-development review, and also intends to increase opportunities for participation in a skills programme from 2.6 million to 5.5 million youngsters.