Sunderland right to sack Steve Bruce - fanzine editor
Last updated on .From the section Football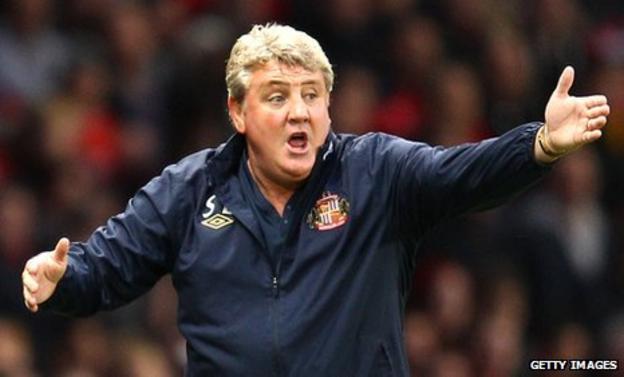 Steve Bruce was given "enough time" to succeed as Sunderland manager, according to some club supporters.
"It was the right time - I think some people would argue that he should have been sacked even before now," said Martyn McFadden, editor of Sunderland fanzine A Love Supreme.
"He basically bought a whole new team in the summer and he hasn't got them to perform. He's made too many mistakes."
Bruce became the first Premier League manager to lose his job this campaign, with chairman Ellis Sort stating that results had "simply not been good enough".
Sections of the Sunderland support reacted angrily after the 2-1 defeat by Wigan at the Stadium of Light on Saturday, with some referring to Bruce's roots as a boyhood fan of North East rivals Newcastle.
"I said when he first took over, if he was successful it would have been completely forgotten what his roots were," said McFadden. "But if he failed then it would be the first thing that people remembered."
"The crowd reaction was cruel on Saturday but he has to remember that people are very passionate about Sunderland Football Club.
"We've been involved in a relegation scenario each season and expectations are above that. When you constantly have the fourth or fifth-highest attendance in the league it's not really too great an expectation."
Former Wales manager Mark Hughes and ex-Aston Villa boss Martin O'Neill have emerged as the leading candidates to succeed Bruce.
"It's impossible for me to speak for the majority of fans," added McFadden. "But, personally speaking, ever since Peter Reid left [in 2002] I've always said I wanted Martin O'Neill to be the next Sunderland manager.
"It seems like the best opportunity we have to get him because he's not at another club.
"Ultimately, Hughes and O'Neill would be an improvement on what we've had - they've both managed teams that have qualified for Europe and they've both managed in Europe."
Simon Walsh, who writes for the Roker Report, added: "The Wigan game was the tipping point for many fans - while some of the chanting was unsavoury to say the least, it was born of frustration.
"Martin O'Neill would unite nearly all the fans like no other, but personally I'd rather have Mark Hughes from the supposed front runners."