African 2012 Olympic qualifying places at stake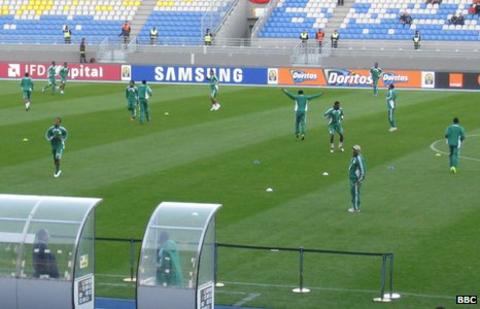 The first two semi-finalists at the African U23 tournament will be decided on Friday, but all four teams in Group A are still in contention.
Morocco take on Senegal in Tangiers at the same time as Nigeria play Algeria in Marrakesh.
A draw will be enough to take Morocco into the last four, but the other teams face some complicated mathematics.
The top three teams at the competition qualify for the Olympics while the fourth-placed side faces a play-off.
Morocco coach Pim Verbeek says that he will not be playing for a draw.
"The best teams in the world can't play for a point and you have to play your own way," he told BBC Sport.
"It's only when you have ten minutes to play and you think you have no chance to win this game then you should play for a draw and change your tactics or players."
If Nigeria are to have any chance of making progress, they have to win their game and hope Morocco do them a favour and beat Senegal.
Wins for Senegal and Algeria would put them level on six points with Morocco and the head-to-head rule comes in.
If Nigeria and Morocco are victorious then the Nigerians, Senegal and Algeria will be level on three points in the battle for the runners-up spot in the group.
Members of Nigeria's Dream Team are expressing confidence, despite being bottom of the table going into the final round of matches and yet to register a single point.
"Any team that is playing against Nigeria in terms of Africa know the quality of our players - they know they are going into a big game and trying to get a win," striker Stephen Worgu told BBC Sport.
"Their coach must have been psyching them up so the realise the chances they've got and they'll be coming into the game optimisitic and I think it's going to be a battle of two teams wanting everything."
The games in Group B take place on Saturday.