Wales' Danny Gabbidon targets Cardiff City return
Last updated on .From the section Football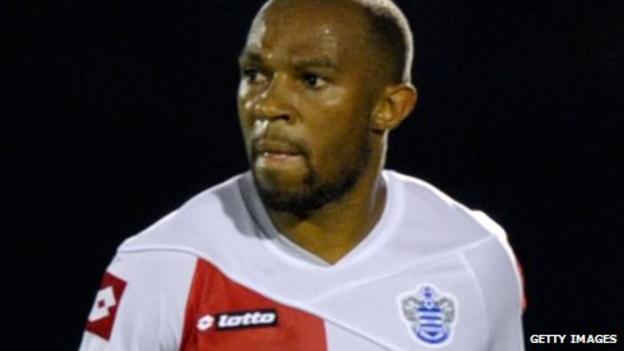 Danny Gabbidon says he wants to return to play for Cardiff City before the end of his career.
The Wales defender, 32, spent five years with the Bluebirds before being sold to West Ham United in 2005.
"I would like to come back one day and play for Cardiff again. I had some great times there," he said.
Gabbidon, who joined Queens Park Rangers on a free contract in July, revealed that an opportunity to re-join Cardiff fell through in January.
"It was quite close to being done but then West Ham wouldn't let me leave in the end so it got a bit messed up.
"But there was an opportunity there for me to come back but it didn't materialise in the end, which was a little disappointing."
Gabbidon established himself as a firm fans favourite at Cardiff City, playing a key role in the club's rise from Division Three to the Championship.
He was sold, along with James Collins, in 2005 as the then chairman Sam Hammam attempted to cut the club's wage bill amidst financial problems.
Cardiff's future prospects appear more secure under Malaysian owners, who are determined to take the club to the Premier League.
And Gabbidon added: "I've got a lot of love for Cardiff.
"I played a lot of games there and had some of my best years there. So if I had a chance to go back there and play, who would want to turn that down at some point.
"So you never know. Watch this space."
Cardiff, under new manager Malky Mackay, have made an impressive start to the season.
A 10-match unbeaten run has seen them rise up to third place in the Championship and a Carling Cup semi-final against Crystal Palace awaits in January.
If they beat their fellow Championship opponents, the Bluebirds will join Manchester United and Chelsea as the only teams to play in FA Cup and League Cup finals at the new Wembley Stadium.
"They've kind of done it under the radar really and they're doing very well in the league as well," said Gabbidon.
"It can be quiet hard to marry those two things together, especially when you haven't got a big squad.
"It's a great achievement for Malky - he's a good guy, a good manager and he's done a fantastic job there so far.
"He hasn't spent a lot of money and for them to be in the semi-final of the Carling Cup and in a play-off position in the league is an unbelievable achievement.
"Hopefully they can kick on and I think a play-off position would be a fantastic result for them come the end of the season.
"If they could get to a cup final as well, that would be fantastic."
The Back Page, BBC Radio Wales, Saturday 3 December, 0830 GMT