SFA investigates Rangers owner Craig Whyte
By Chris McLaughlin
BBC Scotland
Last updated on .From the section Football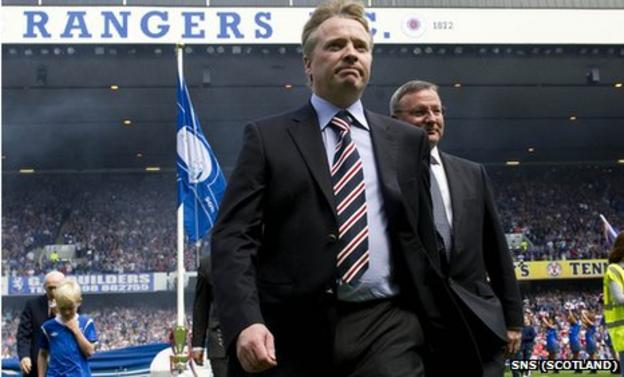 The Scottish Football Association is investigating Craig Whyte after the Rangers owner admitted that he had been disqualified as a company director.
And if it is not satisfied that Whyte falls into its fit and proper person guidelines, it will take action against the Ibrox club.
Rangers issued a statement to the Plus stock exchange on Wednesday confirming Whyte's seven-year disqualification.
The club says it is happy to discuss the matter with the SFA fully.
"The Scottish FA has noted the Rangers FC statement to the stock exchange regarding the club's owner Craig Whyte," said chief executive Stewart Regan.
"We have been in dialogue with the club on this matter and in light of today's developments have requested clarification by return.
"We await disclosure of key information before we can make any further comment."
The governing body's articles of association state that office bearers with their football clubs must meet their board's fit and proper criteria.
The SFA board reserves the right to make such a judgement "after due consideration of all relevant facts".
Asked if it was the SFA's duty to check such matters when a person takes over a football club, Regan told BBC Scotland on Thursday evening: "Every club in Scotland supplies an official return and by supplying that official return they are effectively signing up to the articles of the Scottish FA.
"The rules and regulations are laid out very clearly as to what is and what isn't allowed as far as company directors are concerned.
"Given that clubs are changing their directors and people are coming and going every day, it's impossible for the Scottish FA to investigate every single person across every professional club in Scotland.
"So by signing up to the official return they are binding themselves to the articles of the Association.
"When anything happens to indicate that a breach of those articles has taken place, that is the point at which the Association gets involved."
A spokesman for Rangers said: "At no stage did the club believe there had been a breach of SFA regulations.
"The club will be happy to provide the SFA with all the relevant information and discuss the matter with them fully."
Article 10.2 (g) makes reference to a person who has "been disqualified as a director pursuant to the Company Directors' Disqualification Act 1986, within the previous five years", with the caveat that the list is "acknowledged to be illustrative and not exhaustive".
White was disqualified from 2000 to 2007, while in charge of Vital UK Ltd, as revealed in a BBC Scotland documentary on 20 October.