Pat Fenlon asks Hibernian to produce training ground form
Last updated on .From the section Football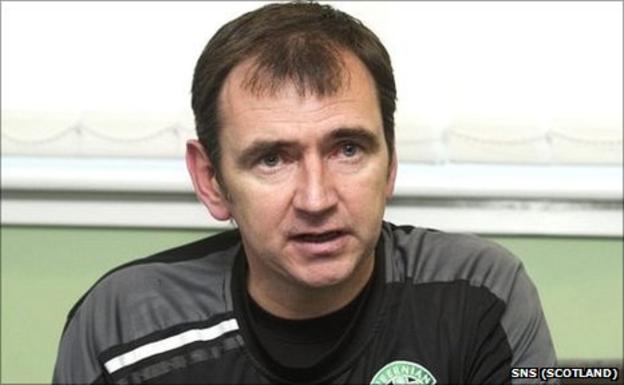 Pat Fenlon has encouraged his Hibernian players to overcome their fear when they play Motherwell on Friday.
Fenlon watched from the stand as Hibs lost 3-1 to St Johnstone on Saturday after going ahead, and bemoaned the loss of soft goals and low confidence.
He said: "They maybe have a bit of a lack of confidence but they can't dwell on that; they have to go and play.
"They have shown me an enthusiasm. Now they have to transfer that from the training ground to the playing pitch."
While the Irishman has been encouraged by the attitude of his players this week, he knows the crunch comes at Fir Park on Friday evening.
Motherwell are third in the Scottish Premier League, 16 points ahead of Hibs after as many games.
"We have tried to get our message across to the players on the training ground rather than sitting down and having a big discussion," said Fenlon.
"Sometimes it can be easy to talk - you have to get out and do the work.
"I think they know how we want them to work and we'll see, the game will be the key.
"But it's not going to be a quick, quick process. It's going to take a little bit of time.
"They have got to get used to me and I need to get to know them.
"It would be great if it was a quick fix but football is not like that. You have to work hard on everything and get used to each other and the system we want to play.
"We're hoping we can see improvement and that we move in the right direction; that's what the supporters want to see."
Hibs have only won one game out of every five since their form suddenly slumped under John Hughes in February last year and Fenlon will work on getting them out of their losing cycle.
"It can be a nervous thing when you're in the position we are in," he added.
"We have a lot of young players who might need a little bit of coaxing to just go and enjoy playing.
"The thing they have to take on board - this is a fantastic club and while you're here, enjoy it.
"If you're doing well, you more or less stay but if you're not you lose that.
"We have got to build them up and build their confidence to play."
The former Bohemians and Shelbourne man added: "We have got some good players here already.
"Everyone is talking about who we can bring in but we need to try and get a little bit more from some of the boys that are here.
"There's some good talent here, maybe because of the way results have been, they are a little bit edgy and nervous and that affects how they play.
"So we have got to try and change that and come January if we need to fill some positions, we will do."