Jazz Richards ready to take his chance with Swansea City
Last updated on .From the section Football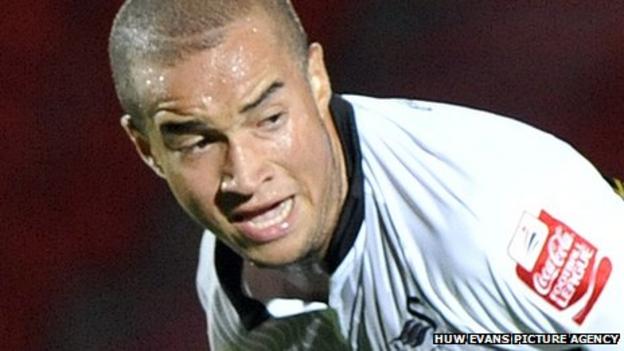 Swansea City defender Jazz Richards says he is ready for his first Premier League start if selected at Blackburn Rovers on Saturday.
The Wales Under-21 captain replaced Rangel against Aston Villa last Sunday but revealed he felt sick with nerves.
"[I'm] ready to go out and play Blackburn now," he said. "I've got to take my opportunity."
"I'm ready for it whereas last week when I was chucked on [I] wasn't expecting it. This week I'm expecting it and ready.
"Usually coming on you do feel a bit nervous and then after 10, 15 minutes you feel fine after you've touched the ball.
"All through the game I felt sick. It's not like me usually because when I'm into the game, I'm into the game.
"I was nervous at the start. After coming out for the second half I felt fine
"I think it was knowing who I was up against, the team and the occasion and playing at home. But I thought I came through the test ok."
Richards signed an 18-month contract extension with Swansea in October and has made two substitute appearances in the Premier League this season.
And the 20-year-old says he will make the most of his opportunity if selected against Blackburn on Saturday.
"I'm going to grab it with both hands," said the former Swansea trainee.
"Hopefully I will have a few more games and get my chance to play.
"Midfield was my favourite position but I haven't played there for so long. It would be nice to play there in the future but at the moment I'm focused on right-back."
On Saturday, Swansea face a Blackburn side who are bottom of the Premier League and who lost 2-0 at Cardiff in the Carling Cup on Tuesday.
And although confident Swansea can secure their first away win of the season at Ewood Park, Richards has warned against complacency.
"Blackburn are lower down the league but we don't underestimate them for a second," added Richards.
"You shouldn't underestimate any team in the league really because who knows what the result is going to be.
"I think it's a good opportunity for us to go there and get three points."