Euro 2012: England fans could be hit by new ticket limit
Last updated on .From the section Football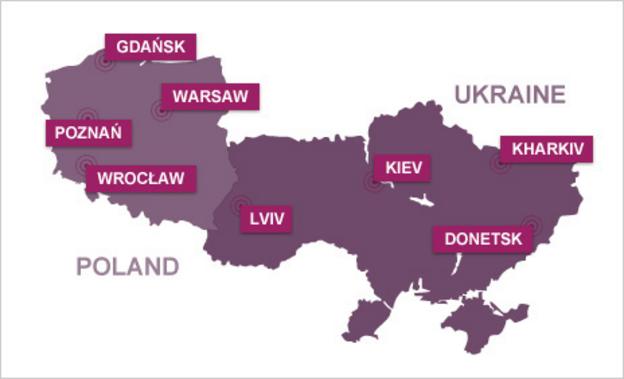 England fans will be allocated just 5,000 official tickets for the quarter and semi-finals of Euro 2012 should their team get that far, Uefa has said.
European football's governing body normally reserve 20% of the stadium's capacity for each competing nation.
But, in recognising the logistical difficulties of transporting supporters around host nations Poland and Ukraine, Uefa has opted to reduce the numbers.
The draw for the group stages takes place in Kiev on Friday.
"We have reduced the capacity of supporters to 5,000 each," stated Martin Kallen, Uefa's operations director for Euro 2012.
"It makes it easier logistically than when we have 20% of the capacity for each.
"With England there is not this problem but some countries do not have as many supporters and we want to give local people a chance to ensure we have full stadiums."
For the first time in European Championship history, teams and supporters who have played exclusively in one country could find themselves playing in another in the knockout stages.
Of the eight venues to be used, five have been specifically built for the first major football tournament to be staged in eastern Europe.
The Ukrainian capital Kiev is scheduled to host the final and one of the four quarter-finals in its renovated 70,050-capacity Olympic Stadium.
The other three quarter-finals will be played in Warsaw's National Stadium, which holds 58,145 fans, Gdansk's 44,636-capacity PGE Arena and the 51,504-capacity Donbass Arena in Donetsk.
The semi-finals are due to be played in Warsaw and Donetsk.