Why Martin O'Neill and Sunderland are a perfect match

By Pat Murphy
BBC Radio 5 live sports reporter
Last updated on .From the section Football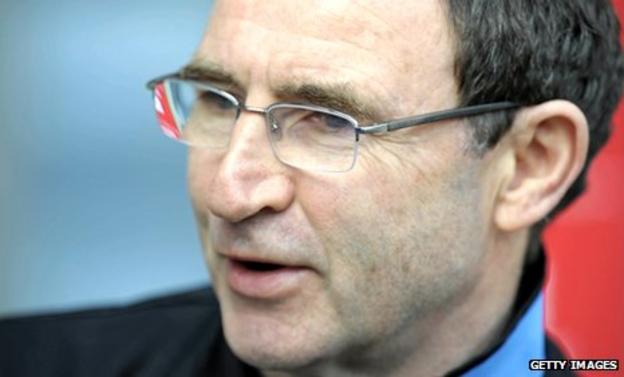 The Sunderland job is a perfect fit for Martin O'Neill. He loves a cause and now has the chance to galvanise the fortunes of a club that desperately wants to dine at a higher table than it is currently occupying.
O'Neill will play the underdog card and tap into Sunderland's history, reminding anyone who cares that he genuinely did support Sunderland, as well as Celtic, when he was growing up in Northern Ireland.
He will talk all day to the supporters about his particular idol - Irish defender Charlie Hurley, who played for the club for 13 years in the 1950s and 60s. He knows about other club legends such as Stan Anderson, George Mulhall and Ambrose Fogarty - plus a player who eventually influenced O'Neill's own playing career after playing in Sunderland's red and white - Brian Clough.
O'Neill knows that past allegiances don't add up to much if you're not winning matches but he genuinely respects the history of clubs.
He will not be found wanting on that score at Sunderland. He will charm the respective supporters' associations with his memories of their former ground Roker Park - and that will at least give him a head start.
O'Neill understands the passion of supporters and not just because he appears to be one of them as he goes through the varying emotions in his technical area.
He is sharp enough to appreciate the socio-economic problems associated with life on Wearside and understands the unifying force of football. It is as you would expect from someone who grew up in divided Ulster at the time of the Troubles - when sport provided a welcome antidote to so many tragic social ills.
Transfer acumen
O'Neill also has something to prove. He is still a driven football man who loves nothing better than proving his detractors wrong. He will be apprehensive initially about returning to club management after 16 months out of the game since leaving Aston Villa. He will also be aware that he needs to strike the right note with his new squad. He has only worked with two of them - Phil Bardsley and Craig Gardner - in the past but is acute enough to rely on his own methods.
Satisfactory results early on are crucial. He will never decry the previous manager and will happily work with what he has. He is no stranger to limited budgets - as at Leicester and Celtic - and will be intent on proving he can mould whatever he has to work with into an acceptable product.
Those who have pilloried O'Neill for the money he spent at Aston Villa might care to do the sums. He bought Ashley Young from Watford for £9.65m, James Milner for £12m from Newcastle and Middlesbrough's Stewart Downing for the same amount. Since then, the club have sold the trio for a combined £30m profit - after enjoying a highly satisfactory yield from their services.
And they might ponder the scenario that, if O'Neill had been allowed to buy Scott Parker from West Ham for £6m in the summer of 2010 to replace Milner, he might still be Villa's manager.
In need of a challenge
O'Neill can on occasion be insecure. He knows how short-term the football world can be. He has at times been concerned over being out of the game for more than a year, aware that younger contenders from overseas do appeal to foreign owners of Premier League clubs.
He needed a challenge and it has turned up at the right time. Next March he will join the sixty-somethings of Premier League management. But Harry Redknapp, Roy Hodgson, Sir Alex Ferguson and Arsene Wenger aren't lagging behind in nous or results - and there's no reason why O'Neill won't join them near the top of the Premier League.
Rest assured he will have thought deeply about his mistakes at Aston Villa - and the key areas where he felt he was right. But he won't be haggling with Sunderland owner and chairman Ellis Short.
Survival the minimum
Sunderland's next fixtures are against Wolves and Blackburn. They are the sort of muck and nettles encounters that O'Neill loves. If he can't manufacture safety from 25 matches, he will be hugely disappointed with himself.
Sunderland may be only two points ahead of the bottom three but they're only five adrift of Aston Villa in eighth.
Who will finish ahead of the other in May?
When Villa host Sunderland on Saturday, 21 April, I doubt if O'Neill's new club will be staring at relegation with four games to go. And the Villa fans who lambasted O'Neill for his abrupt departure - never yet explained by him - might reflect on the words of Joni Mitchell in her classic song Big Yellow Taxi: "You don't know what you've got 'til it's gone".