Rangers manager Ally McCoist 'unaffected' by headlines
Last updated on .From the section Football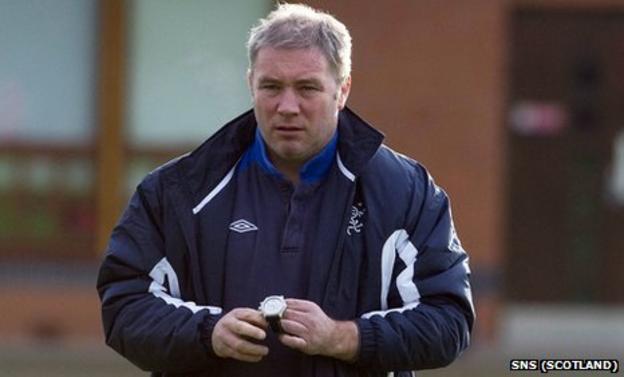 Rangers manager Ally McCoist insists headlines about the club's off-field issues "doesn't affect me".
"My job here is to run a football team and hopefully put a winning team on the park," said McCoist.
"There is no point worrying about things you can't affect or have a bearing on."
McCoist is also confident his players will be able to adopt the same approach.
"They are brought up in an environment where it's like that all the time with the newspapers, media, television, radio," he said.
"If you start worrying about it, you've got no chance. The players certainly won't worry about that.
"If we are going to worry about anything, I think we would have started worrying well before now.
"The players are a great set of boys, they have been and they will continue to be. I don't have any worries or concerns about that."
Meanwhile, McCoist has hinted that the club may be in a position to strengthen the first-team pool.
"We will find out nearer the time," he added.
"We would hope, like anybody else, that we could maybe make one or two changes.
"I'm totally aware of the situation the club is in at the moment and the welfare of the club is the most important thing.
"I've got a good relationship with the owner.
"It's my first time in the job and it's all relatively new to me but I would have to say it's been a great working relationship.
"We speak often on the telephone and we talk about teams and players and all that sort of stuff."