Celtic lure too big for youngster Dylan McGeouch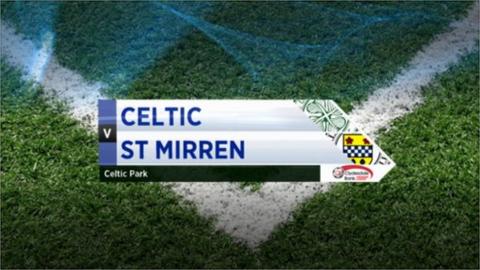 Dylan McGeouch turned down a personal plea from former Rangers manager Walter Smith to stay at Ibrox in order to rejoin his boyhood heroes Celtic.
The 18-year-old scored for Celtic on his home debut against St Mirren last weekend after moving from Rangers in the summer.
"It wasn't about saying no to him," said McGeouch.
"It was about what Rangers could do for me. But as a Celtic fan, I thought Celtic was the place for me."
McGeouch had been on the pitch eight minutes by the time when he scored a remarkable solo goal to complete Celtic's 5-0 win over the Buddies.
He broke free through a throng of St Mirren jerseys before despatching a low left-foot shot into the net, and several messages of congratulations from his former team-mates were waiting for him at the final whistle.
"A few of the boys texted me to say congratulations," he said. "I've got a good relationship with some of the boys at Rangers, so it was good to get a message off them.
"There's a few I'm quite close with who wished me good luck. I get on well with them outside of football."
The youngster has now experienced a taste of the limelight associated with success at the Old Firm, but intends to maintain a low profile and push for a regular starting place in the first team.
"I'm not really used to the attention, so it's been a bit of a shock," said McGeouch. "I need to keep my feet on the ground, the hard work starts now.
"You get a wee glimpse of the celebrity thing with fans, and you're dying to do well in the first team and get more of that.
"But playing football is the priority really, and all the other stuff is irrelevant to what happens on the park."
He also insists that there was no hard feelings when he decided to leave Rangers for Celtic and his decision to move was purely based on his background as a fan of the Parkhead side.
"I never played them off each other," McGeouch added. "I've been a Celtic supporter since I was born - my dad is one too - to come here and score a goal like that means a lot to me.
"Once I made my decision, that was the right one for me. Scoring on my debut helped me settle into the team as well.
"I was in a few meetings with Rangers just before I came here and there was a lot of things said. It's hard to say, without going into the details, but they wanted to keep me and I didn't really know what to do.
"Both clubs were the same. It was nothing more than a personal view - I would never move to a club for the financial side of things.
"You have to be happy, and I thought Celtic were the team that I grew up watching.
"I thought I would be happy here, and I am."